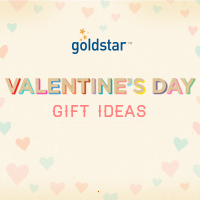 If you're like most Americans this year, you're not really going to go all out for Valentine's Day. Well, you are going to do something but you likely won't be spending a ton more on Valentine's Day gifts than you did last year.
At least that's what the National Retail Federation is reporting for Valentine's Day 2013. Last year American spent, on average, about $126 on gifts and Valentine's Day date ideas. This year we likely to spend just a bit more–$130.
Even if spending is up, I wanted to suggest these 9 offbeat and cheap Valentine's Day date ideas. Some are heavily discounted; others are totally free. All are completely affordable.
I pulled these ideas from the National Parks Service and my affiliate relationship with Goldstar, the discounted ticketing agency. I think somewhere within this list, you'll find the perfect love-filled and frugal idea on how to celebrate Valentine's Day.
Note: While many National Parks are free to access, some do charge admission so check first before planning your Valentine's Day date ideas suggested above.