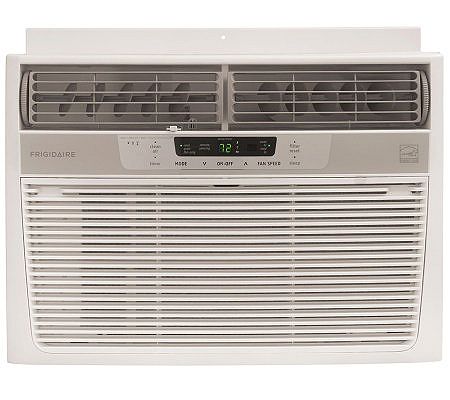 With summer upon us, now is a great time to revisit a popular topic here on Suddenly Frugal–saving money, whether you have central air or you rely on window air conditioning. This reader's question inspired me to cover this topic.
Q&A
Q: How energy efficient is central air vs. window units? I bought a house that can be easily converted to central air, but have been living with window units for the last two summers. Would I save energy by making the switch? I don't cool the whole house at the same time — in fact, when it's really hot out (like last week) I move my home office downstairs and stay in the dining room, which is the only downstairs room with a/c.
A: Turns out the answer isn't as simple as one might think. There are a number of factors that affect whether or not you should use window units versus central air.
Here are more than a half dozen ways to keep cool and save money!
According to experts there are three elements that really matter:
the climate where you live (hot and humid Houston versus dry Denver)
how well-insulated your home is
your personal preferences are
It's possible to find great deals on air conditioners during warm weather. Right now, you can get a Generations 18,000 BTU Window/Wall Slide-Out Air Conditioner for just $399.97.
Issues with Humidity
If you're looking to cool your home and lower the humidity, you could try a dehumidifier. However, as far as efficiency goes, central air is your best bet. "Well-designed central systems win out in terms of being able to filter the air for allergens and pollutants, and for controlling humidity," says Mike Rogers, a senior vice president with Green Homes America, a company that provides residential home performance contracting solutions that increase in-home comfort, health and safety, and significantly reduce energy usage and utility bills.
Two reasons that window units do a terrible job with humidity:
They tend to sweat (especially if they are overworked) and therefore introduce moisture into the room.
It's harder to seal window units. Because of that, some of that hot, humid air leaks in from the outside.
The Role Insulation Plays in Cooling
Maybe humidity isn't your problem. But you'd just like to cool your home. One window unit on each floor will work, if your home is well insulated. (Check out this Energy Star website to figure out the right-sized air conditioner based on a room's size.) Insulation isn't just in the walls, by the way. We're also talking about well-insulated windows and, believe it or not, a well-insulated attic. "In the summer, temperatures in the attic often climb to more than 140 degrees," says Rogers. "This tremendous heat conducts down into your home. Even when the first floor is comfortable, this constant flow of heat from the attic can bake your bedrooms upstairs. Most people don't think of insulation as a way to keep cool. However, increasing levels in your attic can make a huge difference."
When Window Units May Make Sense
Window units are cheaper in the short run. But if you need more than a few of them, you're probably better off with central air. Says Rogers, a central air unit will use less energy overall. Central air willcool more efficiently than a series of window units running in tandem. On the other hand, he says, "if you're just trying to cool one or two rooms—not the whole house—a window unit or two can use less energy than a central system. A couple of window units are much cheaper than a central unit. And, if you have a very energy-efficient house, or small house, they may be all you need."
Did you know that Amazon.com sells air conditioners?
Don't miss out on deals!
Finally, it's all about personal preferences. The reader who sent in this question doesn't seem to mind moving into a single room when it's really hot out. And if it doesn't get hot that often that she needs to disrupt her life regularly like this, then she can probably continue to get away with window units. However, if she's fighting humidity and she seems to be losing the battle, then maybe it's time to make the leap to central air.