Not surprisingly the demand for electricity rises as the weather gets hot and air conditioners start humming. There's no reason your budget has to suffer just so you can be comfortable. I've come up with these 8 ways that you keep cool and save money this summer.
Sign Up for Service That Helps You Change Filters Monthly
When was the last time you changed the air filters in your central air system? If you're like I am–or should I say, I used to be–then that's no way to keep cool and save money. A dirty filter makes your a/c run harder. Or conversely it's a well-known fact that a clean filter helps your central air run more efficiently, thus saving you money. Here is how I've just made changing my filter easier on myself.
I signed up for Filter Easy, a filter club, and saved 90% off my first first order. Filter Easy works a lot like Dollar Shave Club, in that it sends me filters for my central air system so I don't have to run to the store. Filter Easy is saving me money, too. I paid $4.50 for three filters for my first delivery. That's because rather than sign up for one filter every month, I signed up for three filters to arrive every three months. This way I saved 90% on those first three filters rather than just one. In three months, when Filter Easy sends me my next batch of filters, I'll pay about $44. That's what I would pay in the store anyway. Shipping is free, and, most importantly I don't have to go to the store!
While that 90% off offer has expired, you can still sign up for Filter Easy and get $20 off your first month. Considering my filters cost about $14, that's like getting your first filter free!
Look what arrived today–my three filters from Filter Easy! You bet I changed out my old filter right away. Boy, was it dirty!
Install a Programmable Thermostat
Installing a programmable thermostat is smart. You can raise the setting to the highest comfortable temperature when you're out of the house. No reason to cool an empty house. You can program your thermostat to kick in right before you get home from work. You can save 3 to 5 percent on your air conditioning costs for each degree you raise the thermostat.
A programmable thermostat is one of the best ways to keep cool and save money. FYI, if you happen to have the Amazon Alexa, the Nest smart thermostat works with it!
Close Doors
There are probably lots of doors throughout your house or apartment that you should keep closed on hot days. I'm not just talking about your front door either. You should close doors leading to uncooled and vacant parts of your home. If you have central air conditioning, close off vents to unused rooms.
Use a Ceiling Fan
Using a ceiling fan can make a room feel cooler on your skin. This is true, even if you have air conditioning. Many of the rooms in our house have ceiling fans. These can help people "feel" cooler without cranking the a/c. Best of all ceiling fans don't use a lot of energy.
Seal Holes and Cracks Around Doors and Windows
Eliminate air leaks around window air conditioners with foam insulation or weather-stripping. You can do this sealing and weather stripping yourself on a weekend day. Or you can hire a professional to do it for you. It's so easy to fill out and submit an online service request form on HomeAdvisor.com.
Block Out the Sun
Close blinds, shades and draperies facing the sun. This will keep out the sun's heat. This is an easy way to help fans and air conditioners cool more efficiently.
Turn Off Power Sources
TVs, computers and other electronic devices draw power when they are in standby mode or turned off but still plugged in. Plug electronics into power strips and turn off the power switch when the items are not in use. Some of them give off residual heat that could raise the temperature of the room so turning them off is a good idea.
Invest in a Dehumidifer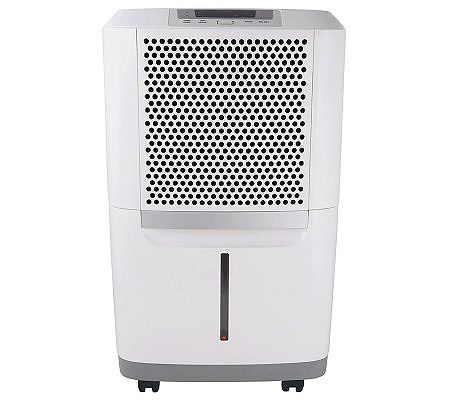 Humidity levels affect your ability to feel cool. You can reduce the humidity level in your home by investing in a dehumidifier. Putting one in your basement, like we have done, can help cut down on musty smells as well.
Save
Save