When we lived in Ann Arbor, Michigan, we didn't have to go very far to enjoy outdoor art. This was for a couple of reasons.
One, Ann Arbor is home to the University of Michigan, which has many pieces of public art on the campus. And two, Art Fair.
This page may contain affiliate links, which means I may be compensated if you click a link. However, there is no cost to you. Also, as an Amazon Associate, I earn from qualifying purchases. For more info, please see my Privacy and Disclosure page.
Every summer Ann Arbor hosts Art Fair, which is just as it sounds. It's an outdoor fair filled with all kinds of art.
Art Fair usually happens at the end of July. In 2023, it is July 20 through July 22.
If you're looking for hotels in Ann Arbor or near Art Fair, this article on Graduate Hotels includes the property just north of the University of Michigan campus, where Art Fair is centered.
Photo by Leah Ingram
However, you don't have to wait for an annual art event to enjoy making a vacation or day trip that is centered around creativity.
Best outdoor art destinations
When you're visiting somewhere with outdoor art to enjoy, you'd be smart to pack your favorite walking shoes. You're bound to clock thousands of steps while getting your art on.
Thanks to Stacker.com, I've been able to track down some of the best outdoor art destinations in the United States. Some of the places you'll visit include:
Chicago
Detroit
Miami
Minneapolis
New York City
Seattle
And that's just a small sample of the places with urban art installations. Some of this public art is in the middle of Mojave Desert or in the foothills of the Catskills Mountains.
So, if you love indulging in outdoor art as much as I do, read on for some of the best places to visit for a unique and culturally rich art experience.
Finally, whenever possible, I've made hotel recommendations that are close to each destination.
The High Line, New York City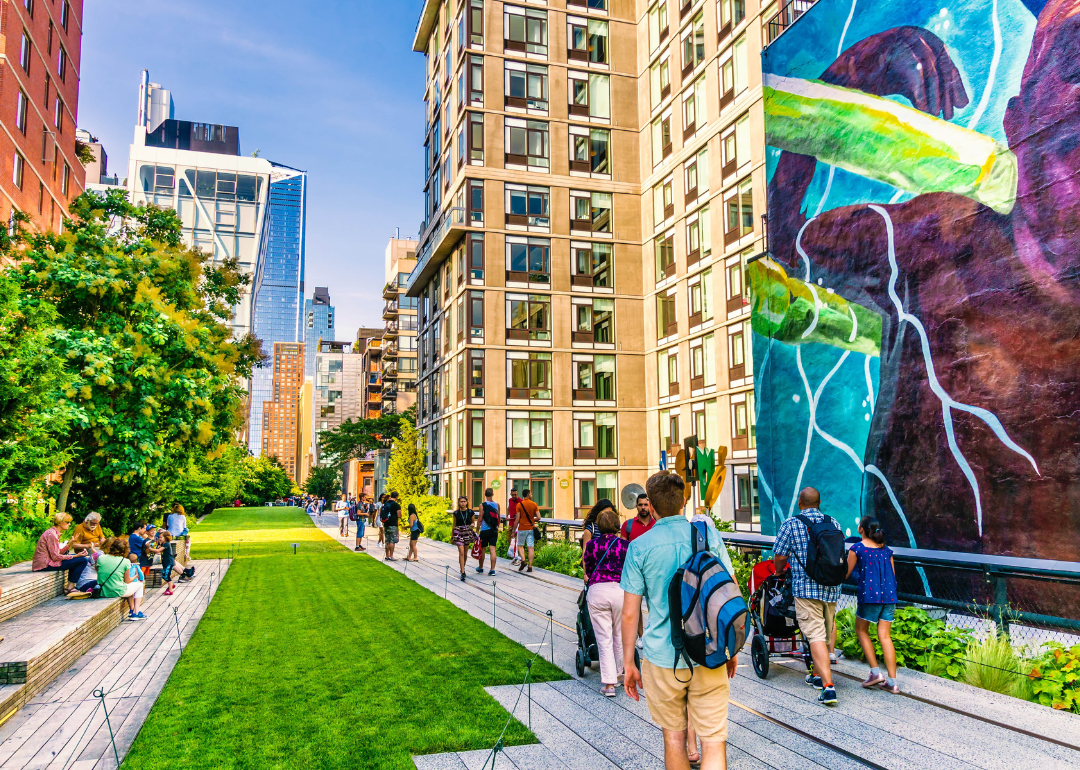 Michael Urmann // Shutterstock
The High Line is a combination of walking trail, sightseeing avenue and outdoor art space–all suspended above New York City streets. And it's all built on a former freight rail line near the Hudson River in lower Manhattan.
Basically, curated green spaces and multiple public artworks greet you along the mile-plus-long linear "park in the sky."
The southern end of the High Line is in the Meatpacking District in Manhattan, near the Whitney Museum at Gansevoort Street and 10th Avenue. When you reach the northern end, you'll be able to exit near the Jacob Javits Convention Center, at 34th Street and the West Side Highway.
I captured this picture of an Andy Warhol mural on my last High Line trip.
Photo by Leah Ingram
I've walked the High Line many times, and each time it is like a new visit. One of the reasons it's always changing is that the curators keep adding new art to see.
For example, two new, nature-inspired additions include Pamela Rosenkranz's vibrant, red and pink "Old Tree" and Yu Ji's bark-like "Column-Untitled No. 3" amidst a plant bed. In addition, you can catch live theater, music performances and artist-led events hosted throughout the year.
Many of the hotels near Peloton NYC are also close to the High Line.
Storm King Art Center, New Windsor, New York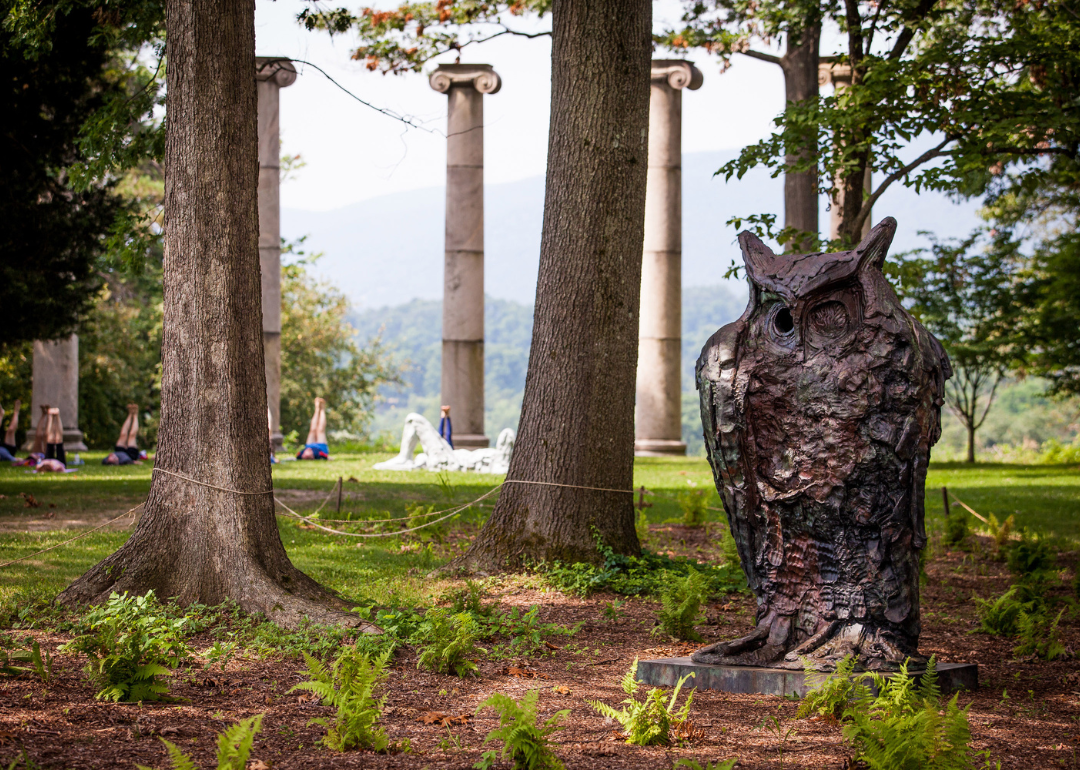 Photo Spirit // Shutterstock
Walking shoes are a must to roam the different terrains of the 500-acre sculpture museum in the idyllic Hudson Valley countryside. More than 160 artists are represented in Storm King's collection, with works dating as far back as the 1910s.
Some monumental works to consider include Zhang Huan's 28-foot-high "Three Legged Buddha" sculpture located in the Maple Rooms area, Alexander Liberman's cylindrical "Iliad" installation in the Meadows, multiple Alexander Calder works on Museum Hill and Maya Lin's 11-acre undulating "Storm King Wavefield" in the southwest.
In case you didn't know Maya Lin designed the Vietnam Veterans Memorial in Washington DC.
Hotels near Storm King sculpture park
Your best bet for finding hotels near Storm King is to head north towards Newburgh and Stewart Airport.
Grounds for Sculpture, Hamilton, New Jersey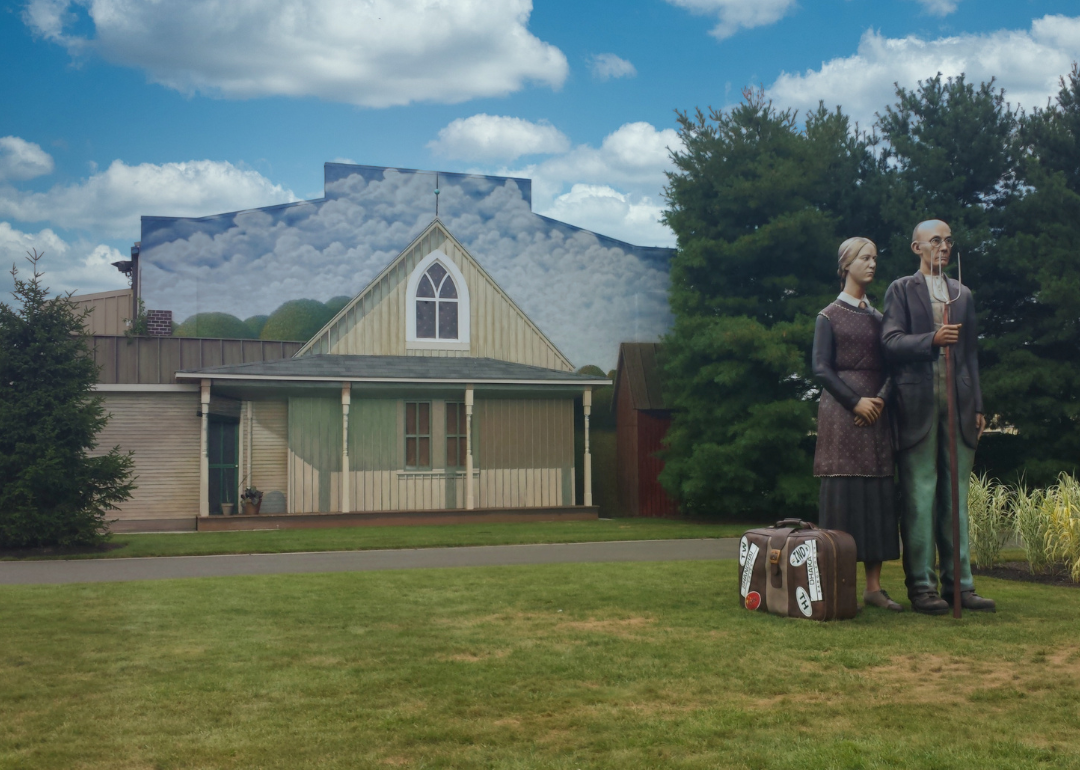 andysartworks // Shutterstock
Set aside a day to explore contemporary art and breathtaking horticulture at the 42-acre Grounds for Sculpture in Hamilton, New Jersey. There are an impressive number of works and installations—more than 400— including founder Seward Johnson's "Were You Invited?" party scene and Carlos Dorrien's compelling granite figures "The Nine Muses."
Don't miss the nods to master artists in additional attractions, such as the Monet Bridge and Van Gogh Pond, or, shown above, a larger than life tribute to Grant Wood's "American Gothic."
Finally, come to Grounds for Sculpture for the outdoor art and stay for the food at Rat's Restaurant. It serves an award-winning menu that's well worth the trip.
Hotels near Grounds for Sculpture
You'll want to focus on hotels in Hamilton, NJ for thos nearest to Grounds for Sculpture. This includes Courtyard Hamilton and Residence Inn Hamilton.
Philadelphia's Magic Gardens, Philadelphia, Pennsylvania
Vivvi Smak // Shutterstock
Philadelphia's Magic Gardens are a mosaic-laden outdoor sculpture garden and gallery in the heart of South Street. The gardens feature the work of renowned Philly artist Isaiah Zagar who uses found objects that he then embeds in walls and walkways.
You can take a guided tour Wednesday through Sunday. Some of these tours give a sneak peek at his mosaicked basement.
Pro tip: ask the tour guide about the scavenger hunt. It doesn't disappoint.
Finally, for after-hours fun, attend Twilight in the Gardens. It is their live music and art series held on the fourth Friday of the month, from May through October.
One of the closest hotels to this outdoor art garden is the Fairfield Inn & Suites Philadelphia Downtown/Center City.
Glenstone, Potomac, Maryland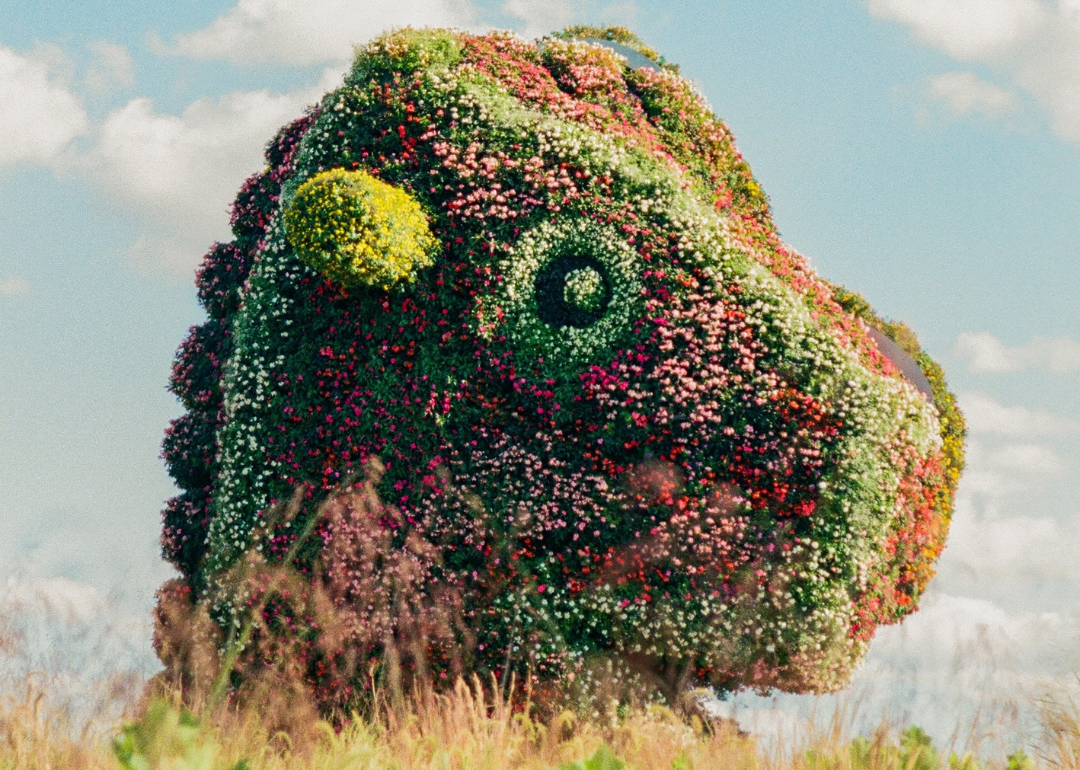 Wirestock Creators // Shutterstock
Glenstone is a contemporary art museum on 300 acres. It has some 12 al fresco sculptures from the likes of Kara Walker, Jeff Koons, Ellsworth Kelly and Felix Gonzalez-Torres.
One of the highlights is the delightful, 40-foot-tall horse topiary. It's a Koons' work called "Split-Rocker." Some say it is part dinosaur and part rocking horse. Finally, you can catch it blooming with colorful flowers, as long as you visit before fall is over.
Your closest hotel options are in Rockville, Maryland.
National Gallery of Art Sculpture Garden, Washington D.C.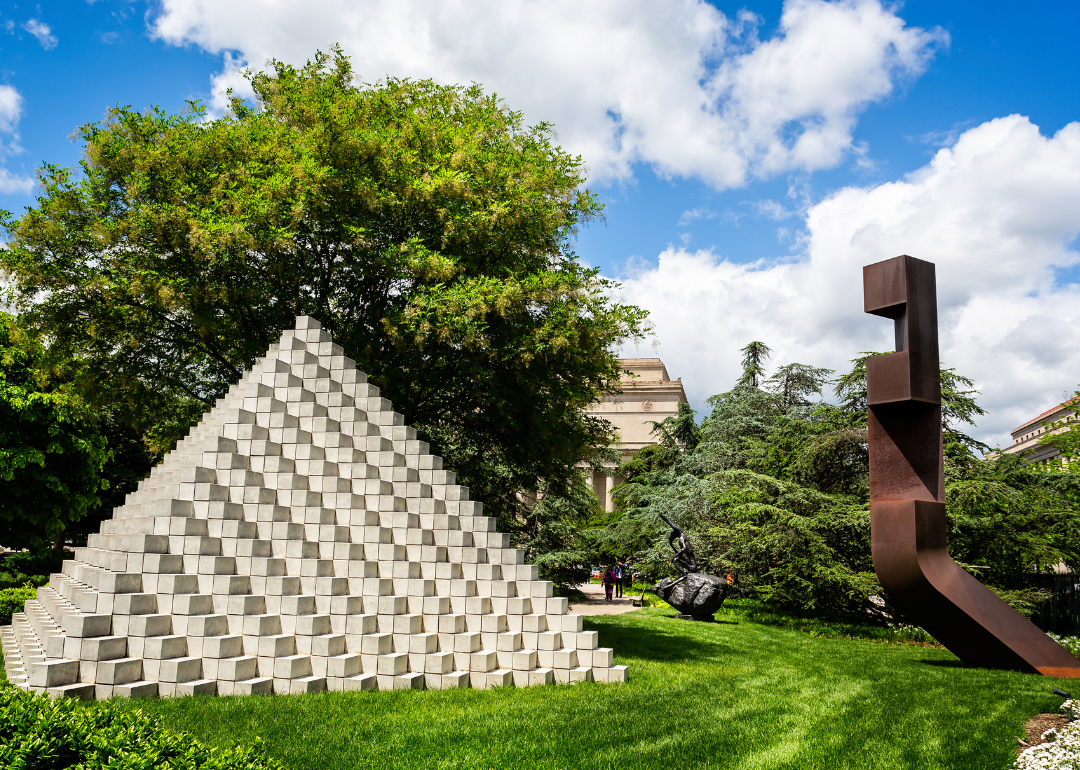 Nigel Jarvis // Shutterstock
You'll find some of the most famous sculptures in the country–21 in all–at the outdoor art sculpture garden, across from the National Gallery of Art.
Some of the iconic sculptures here include Marc Chagall's "Orphée" stone and glass mosaic and Robert Indiana's brightly painted and stacked "AMOR" letters. You know Indiana's work from the "LOVE" letter sculpture in Philadelphia.
Other famous artists with works here:
Roy Lichtenstein
Alexander Calder
Roxy Paine
Alfredo Halegua
Pyramid Hill Sculpture Park and Museum, Hamilton, Ohio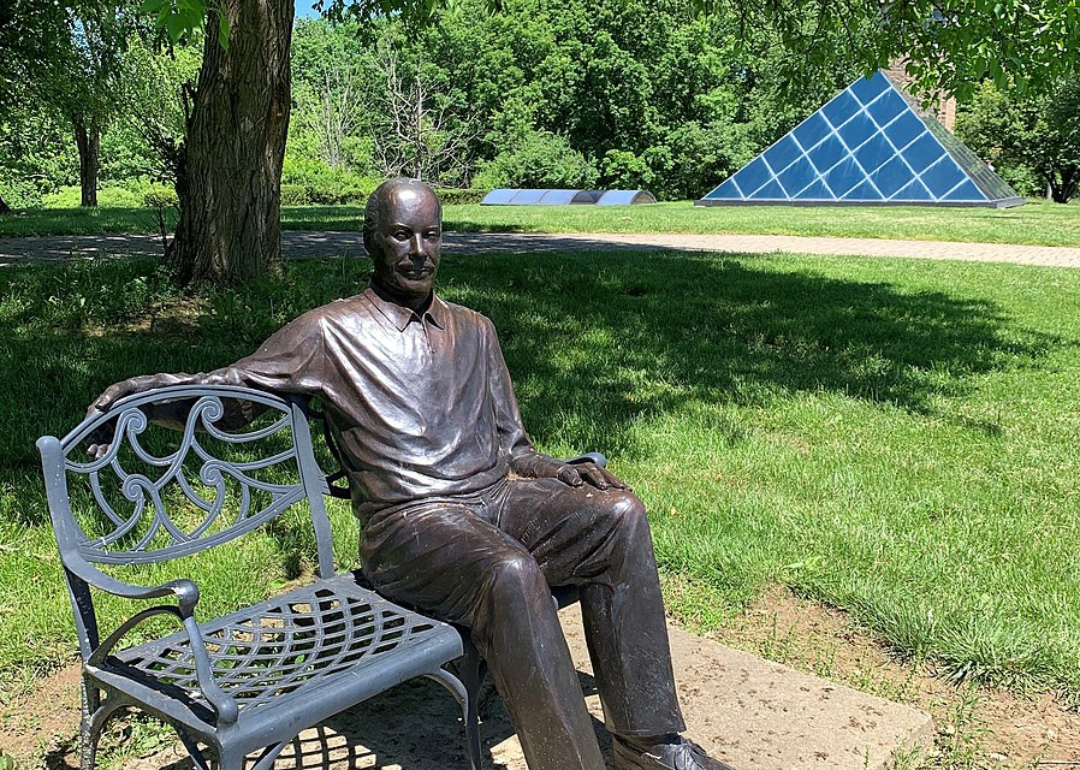 TMorata // Wikimedia Commons
There are different ways to explore Pyramid Hill, a 300-plus-acre park with more than 80 sculptures outside. For example, you can go by foot or car, or, if available, visitors can rent an "art cart" (aka a golf cart).
Also, you'll find plenty of modern artworks along this hilly landscape of hiking trails, lakes and meadows. This includes:
Voss Finn's "Dragonfly Dome"
Harry Gordon's large tree remnants in "Tory's Comet"
Chakaia Booker's "Shhh"
George Sugarman's "Cincinnati Story"
Finally, Pyramid Hill is located in southwest Ohio, between Cincinnati and Dayton.
Heidelberg Project, Detroit, Michigan
Belikova Oksana // Shutterstock
What is Heidelberg Street? It's a Detroit neighborhood of outdoor art, thanks to artist Tyree Guyton. There, he transformed a depressed area of abandoned houses and empty lots into a place of hope and beauty. You'll find multiple installations and works dotting the street.
You'll need at least an hour to explore Heidelberg Street, which includes Guyton's two-story Victorian childhood home. Now, it's called the Dotty Wotty house for its different colored and sized polka dots covering its exterior.
Heidelberg is one of these hidden gems in the US.
Another installation features stuffed animals and toys piled on top of a boat; it's called "Noah's Ark." Perhaps it represents lost toys from the artist's childhood.
Check out these Michigan drive-in movie theaters near Detroit.
Finally, Heidelberg Street is just two miles from downtown, where there are plenty of Detroit hotels.
The Virginia B. Fairbanks Art & Nature Park, Indianapolis, Indiana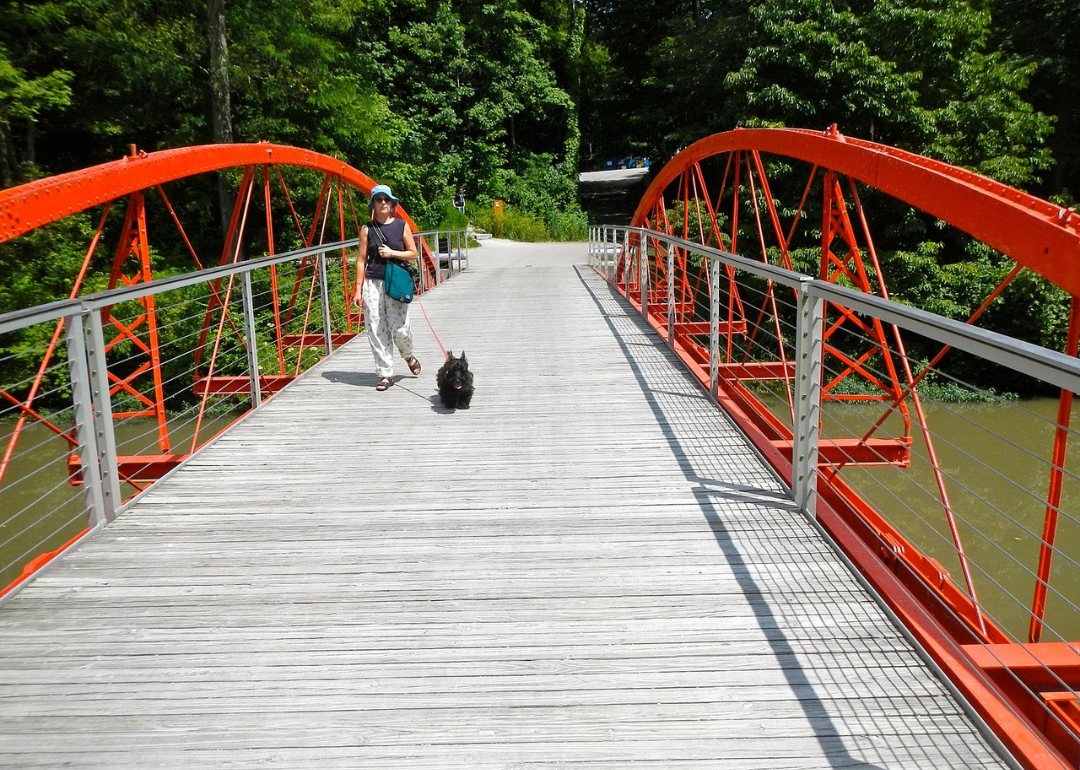 PunkToad // Wikimedia Commons
The Virginia B. Fairbanks Art & Nature Park is a beautiful art and nature park that also includes the Indianapolis Museum of Art. You'll experience all this art out in the open when you walk the trail around the park's 35-acre lake.
Some of the most interesting art pieces are creative versions of benches. This includes yellow undulating benches of Jeppe Hein's "Bench Around the Lake" and Atelier Van Lieshout's "Funky Bones," which are white benches that form a skeleton.
Millennium Park, Chicago, Illinois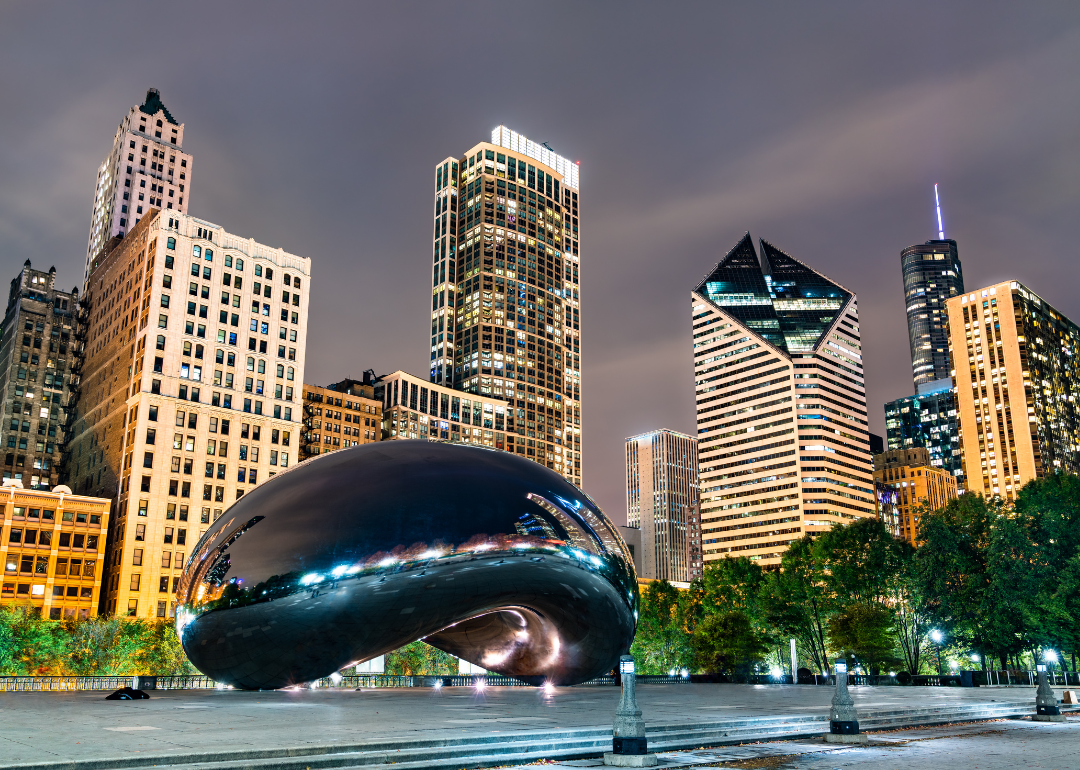 Canva
Take the Millennium Park Art walking tour or a self-guided one to see all the public artwork in this 24-acre park. This includes the pavilion-like "Screenhouse" by Edra Soto and installation by Christine Takowski. You'll marvel at the colorful, suspended glass boulders.
Of course, the park's most recognizable work is known as "The Bean." On the other hand, it's real name is "Cloud Gate."
Finally, check the park's calendar to catch the summer music and film series.
Wynwood Walls, Miami, Florida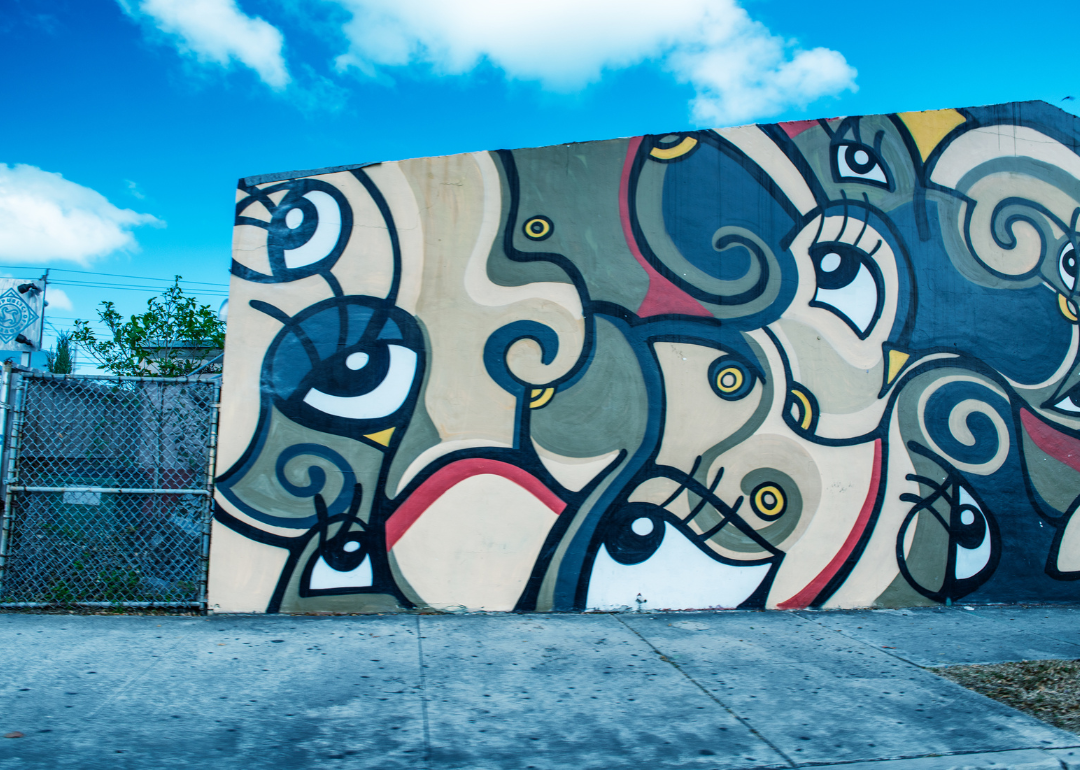 Canva
You'll find a heavy dose of the international street art scene at Wynwood Walls. In fact, Wynwood Walls is known as Miami's Original Street Art Museum.
Here you'll find a variety of outdoor art. This includes works from the "first lady of graffiti," Lady Pink (Sandra Fabara), who got her start decorating New York City subway cars. Also, you can enjoy the classic graffiti lettering of Brazilian twins Os Gemeos.
In addition, there's a book available at Wynwood Walls (or on Amazon) about the museum's history.
Besthoff Sculpture Garden, New Orleans Louisiana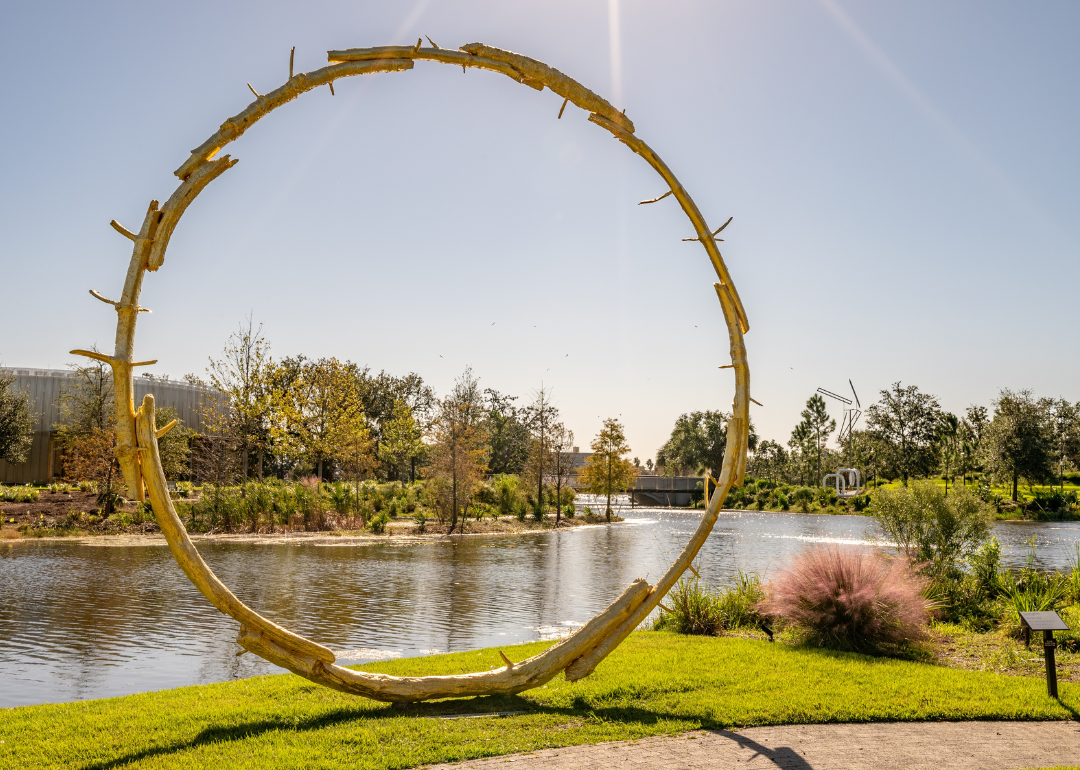 Page Light Studios // Shutterstock
The Besthoff Sculpture Garden occupies approximately eleven acres in City Park adjacent to the New Orleans Museum of Art. It is a place of serenity and beauty.
Here, you'll experience more than 90 works from well-known artists such as Frank Gehry and Frank Stella. It's a peaceful, beautiful oasis in the middle of New Orleans, close to the shores of Lake Pontchartrain.
By the way, here is the best time to visit New Orleans.
Minneapolis Sculpture Garden, Minneapolis, Minnesota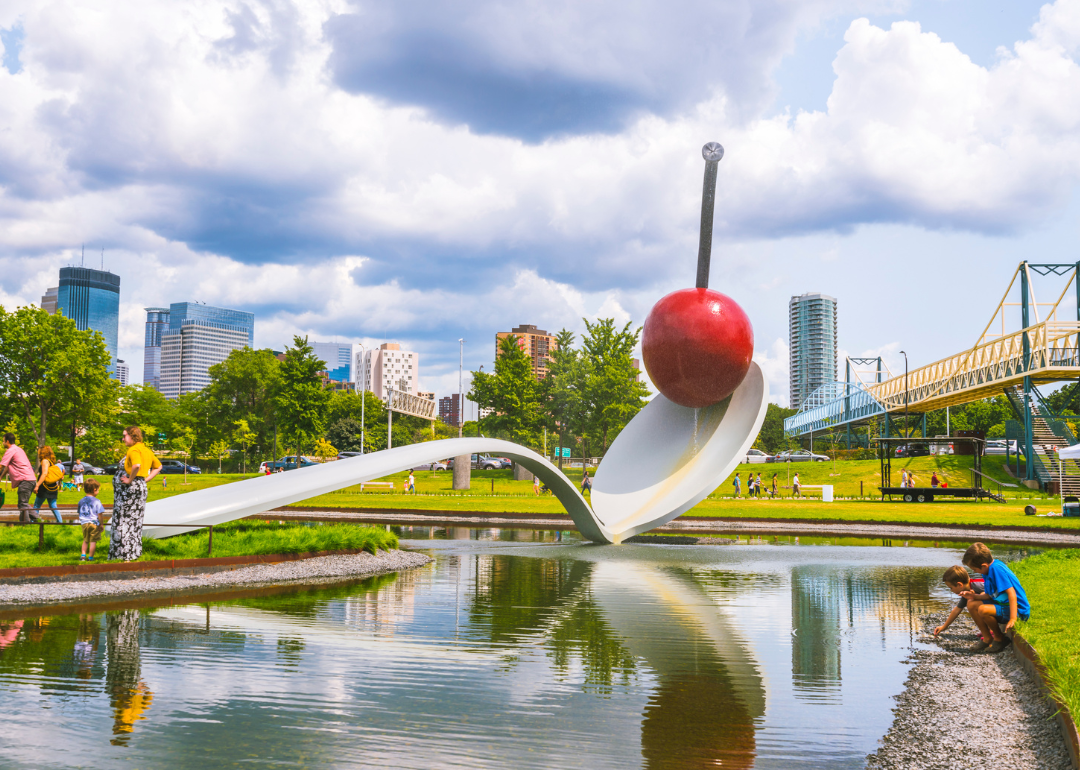 Checubus // Shutterstock
If you're planning to visit Minneapolis' Walker Arts Center, then you must set aside time to visit the Minneapolis Sculpture Garden. It's an art destination for all ages.
Here, you'll find more than 40 modern and contemporary artworks in this 11-acre park. Most notably–and perhaps most recognizable–is "Spoonbridge and Cherry" by Claes Oldenburg and Coosje van Bruggen. It's a massive spoon sitting in a shallow pond with a bright red cherry on top.
When we visited during a summer trip to Minneapolis, my daughters loved imagining what size giant would need a spoon and cherry this big.
Other notable artists with outdoor works here include Alexander Calder, Roy Lichtenstein, Isamu Noguchi and, most recently, Angela Two Stars. That's the first Native American artist added to the collection.
Another piece of outdoor art, if you will, in Minneapolis, is a statue of Mary Tyler Moore tossing her hat in the air. It's from the opening credits of the iconic Mary Tyler Moore show. It's close to the very first city Target that opened in the U.S.
Nasher Sculpture Center, Dallas, Texas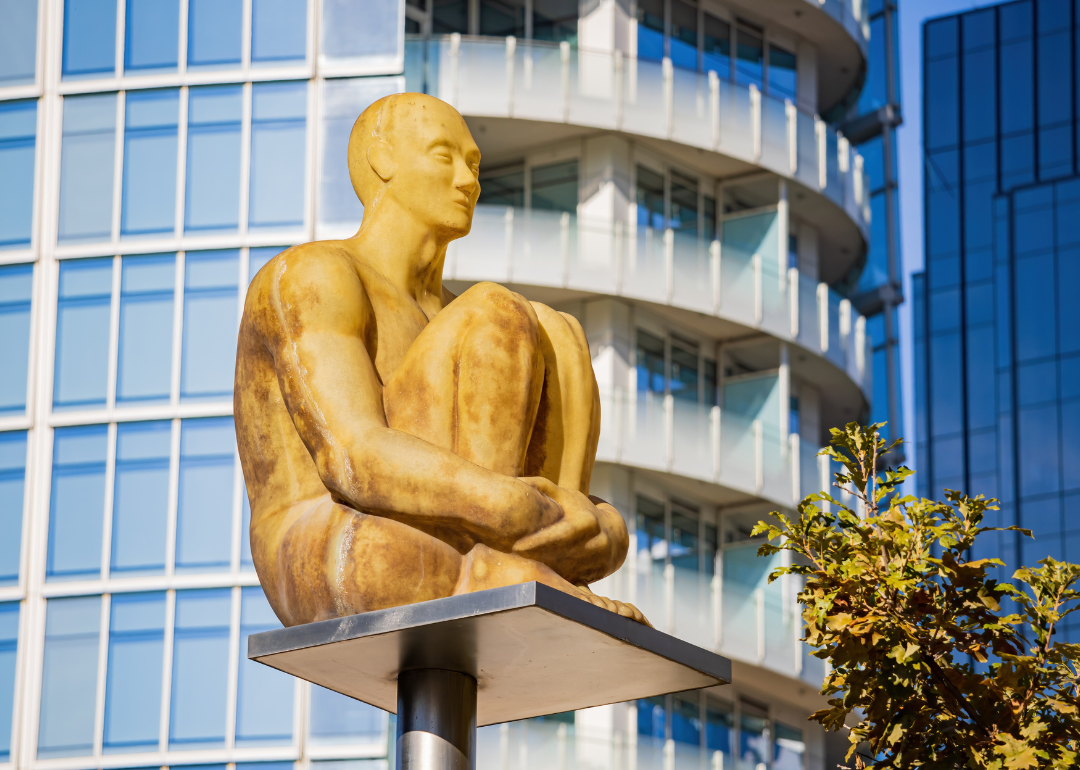 Kit Leong // Shutterstock
You'll get to enjoy the works of Willem de Kooning, Jasper Johns, Liu Wei, Claes Oldenburg, Joan Miró, Auguste Rodin, Picasso and many more at the Nasher Sculpture Center. This outdoor space is across the street from the Dallas Museum of Art.
On the third Friday of each month, make plans to attend the popular 'til Midnight at the Nasher program. That's when you can enjoy live entertainment and a movie in the garden. The fun kicks off at 6 p.m.
Planning a visit to Tennessee? You'll have to check out the art there in the form of Nashville murals.
Olympic Sculpture Park, Seattle, Washington

Checubus // Shutterstock
The nine-acre Olympic Sculpture Park features 20 jaw-dropping public artworks. They include Richard Serra's "Wake," Beverly Pepper's "Perre's Ventaglio III," Alexander Calder's "The Eagle" sculptures and Teresita Fernández's "Seattle Cloud Cover" glass bridge.
Wear comfortable walking shoes and start at the Allen Family Foundation Plaza, using the park's friendly map and guide to follow the different pathways to see them all. Your walking tour will take you along Seattle's stunning waterfront.
You'll find additional outdoor art on the San Juan Islands.
The Noah Purifoy Outdoor Desert Art Museum, Joshua Tree, California
gabriel12 // Shutterstock
Artist Noah Purifoy was one of the founding members of Los Angeles' Watts Arts Center. He spent the last years of his life creating numerous large-scale works in the Mojave Desert. There, he gave discarded materials new life in imaginative ways.
Purifoy's sculptures live on for the public to experience at the Noah Purifoy Outdoor Desert Art Museum. It covers 10 acres of the desert landscape.
Finally, your best bet for finding a hotel is in nearby Twentynine Palms, California. That's where the Joshua Tree National Park is located.
Portions of this article originally appeared on Stacker.com. Teena Apeles contributed to it.