Ecotourism and Sustainable Travel
THIS POST MAY CONTAIN AFFILIATE LINKS, WHICH MEANS I MAY BE COMPENSATED IF YOU CLICK A LINK. THERE IS ABSOLUTELY NO COST TO YOU. ALSO, AS AN AMAZON ASSOCIATE I EARN FROM QUALIFYING PURCHASES.
Have you ever wondered what ecotourism and sustainable travel are all about? In my mind, it has something to do with nature-related travel.
Turns out, that's only partially correct. In fact, it's about much more than spending time outdoors.
What does ecotourism and sustainable travel mean
With a warming planet, ecotourism and sustainable travel are likely at the top of travelers' minds. I know it is with me.
Sustainable travel is often called ecotourism or responsible travel. It focuses on reducing the misuse of natural resources, local economies and local communities. At the same time, it promotes the fostering of cross-cultural understanding and appreciation.
That's a mouthful, I know. But what does that mean in the real world?
But here's a real-world example: when I was preparing for my trip to Beaches in Turks and Caicos, my travel companions implored that I get reef-safe sunscreen.
The idea behind this kind of sun protection is this: when you're in the water and if your sunscreen happens to wash off, it isn't doing anything bad to marine or reef life. That's why I spent time researching my sunscreen options, shown below.
It's a small step towards preserving the local ecology and environment while also protecting my skin from the sun's harmful ways.
Definition of ecotourism
Here is how The International Ecotourism Society (TIES) defines ecotourism:
"Responsible travel to natural areas that conserves the environment, sustains the well-being of the local people, and involves interpretation and education."

The International Ecotourism Society
In addition, TIES recommends these other actions that help with sustainable travel. This is for both the travelers and those who arrange travel:
Minimize physical, social, behavioral, and psychological impacts.
Build environmental and cultural awareness and respect.
Provide positive experiences for both visitors and hosts.
Provide direct financial benefits for conservation.
Generate financial benefits for both local people and private industry.
Deliver memorable interpretative experiences to visitors that help raise sensitivity to host countries' political, environmental, and social climates.
Design, construct and operate low-impact facilities.
Recognize the rights and spiritual beliefs of the Indigenous People in your community and work in partnership with them to create empowerment.
Barriers to sustainable travel
Way.com, which helps drivers find and reserve the best city and airport parking, car washes, auto refinance and more, has assembled some interesting stats to read if you are curious about sustainable travel.
Sustainable travel
As drastic climate change is more of an elephant-in-the-room situation, eco-friendly vacations are trending. Travelers can contribute to preserving the planet's natural and cultural integrity for future generations by choosing sustainable traveling.
Heading to Bali? You'll find at least one eco-friendly Sanur hotels on the beachfront.
It can promote local commodities, which can also help the economy.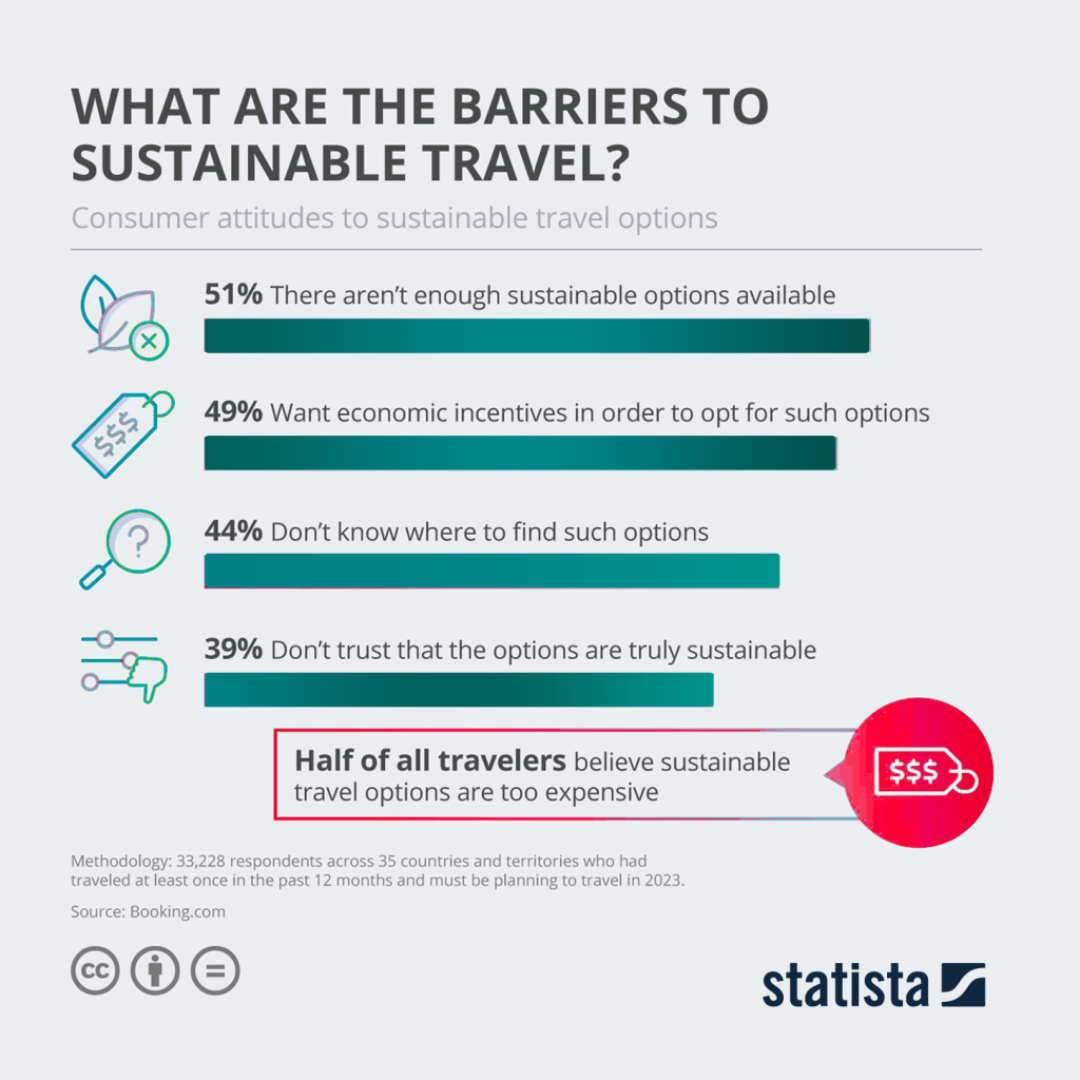 Why is sustainable traveling not yet at its peak?
Sustainable traveling looks good on paper. However, it's not perceived as a more convenient and practical option. People want to travel more sustainably. At the same time, though, they give in to conveniences over ecoconsciousness.
Despite the availability of eco-friendly travel options, half of all travelers find them insufficient or prohibitively expensive. Many also believe these options are difficult to find or not credible enough. While travelers recognize the importance of climate change, there is still a gap between impact and action.
Based on Booking.com's Sustainable Travel Report 2023, 80% of travelers confirm that sustainable travel is important to them. And 70% accept that it's high time to take sustainable travel seriously.
Impact of the economy
The economy also makes it difficult to be more conscious about when, where, and how we travel. In fact, six in 10 Americans believe the cost-of-living crisis will worsen in the next six months. This is sure to affect their travel budgets.
At the same time, 49% have almost given up on the thought that the planet can even be saved at this point. I mean, given the news about extreme weather of late–excessive heat in the South, flooding in the Northeast–can you blame them?
What experienced travelers think
The traveling crowd is a bit different, though. These are experienced travelers who may have a more open mind than most.
Here's how they stack up:
49% believe sustainable travel options are too expensive
43% are willing to spend for it
47% are willing to get more tips on it so that they can save the planet while staying within their budget
At the same time, nearly half of all travelers prefer discounts and economic incentives to opt for eco-friendly options. I get that. I like to save money as much as the next person.
Gaps in sustainable travel
To travel sustainably, people must practice the same at home. It has to become second nature.
In other words, they should be in the habit of living and acting sustainably every day, such as by composting their food scraps. Unfortunately, only 16% of Americans practice sustainability at home.
At the same time, nearly seven in 10 said they would choose to stay in a specific hotel if they knew it had a sustainable accreditation or label. I remember how excited I was to see this recycling bin in my hotel room at the Westin Hotel in Charlotte, North Carolina.
It forced me to make a mental note to always look at Westin hotels (part of the Marriott family) when booking travel. That's because I knew they (that would be Marriott hotels) were doing what they could to help the environment.
It doesn't hurt that many Marriott hotels are Peloton hotels, too.
Finding sustainable lodging
Those of us who care about such things want it to be easier when booking travel.
For example, 59% want to filter their options so they can see which companies have a sustainable certification for the next time they book.
At the same time, 44% like it when brands offer products or services that are more sustainable. This makes me think of that aforementioned recycling bin in the hotel room. Also, I like it when I stay in hotel rooms that give me the option of opting-out of daily housekeeping.
I mean, there's no reason to wash my towels daily. Then, again, this seemingly "green" option could just be in response to an ongoing shortage of hospitality staff.
Bottom line on sustainable travel
Sustainable travel is an ongoing trend in the tourist sector. Ideally, travelers can lower their carbon footprint and contribute to a more sustainable future by using eco-friendly transportation, staying in eco-conscious hotels and participating in responsible tourist activities.
Below I've highlighted some eco-conscious hotels in the United States where you might consider staying on your next trip.
The original version of this story was written by Natasha Young, produced by Way.com and reviewed and distributed by Stacker Media.