Celebrity Brands with Famous Founders
Unless you watched the reality show "Welcome to Wrexham," you probably wouldn't have known that Mint Mobile is one of those celebrity brands with a famous founder.
That is, actors Ryan Reynolds and Rob McElhenney purchased a football club in Wales.
This page may contain affiliate links, which means I may be compensated if you click a link. However, there is no cost to you. Also, as an Amazon Associate, I earn from qualifying purchases. For more info, please see my Privacy and Disclosure page.
While watching the show on streaming, you'll notice that there are a ton of Mint Mobile commercials.
Of course, there are, because it is one of Ryan Reynolds celebrity brands.
Sidenote: in March 2023, T-Mobile purchased Reynolds' Mint Mobile for $1.35 billion (with a "B").
However, Reynolds' Mint Mobile is hardly the only brand that has a celebrity founder.
Celebrity brands with famous founders
When it comes to brands with a famous celebrity behind them, you might be surprised at who is getting into business together.
In fact, with the help of this story from ShopDog, I was able to track down nearly a dozen companies that a celebrity or celebrities started.
This includes:
celebrity alcohol brands
clothing companies
celebrity makeup brands
And much more.
Read on to find out the famous face behind well-known and not so well-known brands.
Fenty by Rihanna
Why is Rihanna's beauty and fashion brand called Fenty?
Because Fenty is Rihanna's last name.
You can find Fenty Beauty products for sale in top retailers, such as Sephora and Ulta.
It's even available on Amazon.
Peloton instructor Aditi Shah loves the Fenty Beauty by Rihanna Match Stix Contour Skinstick.
Fenty Beauty is a 50-50 joint venture with French beauty conglomerate LVMH–as in Louis Vuitton.
Also, there is Savage X Fenty, Rihanna's fashion company.
Recently, Savage X Fenty debuted a sport line, which includes athleisure.
For example, you can find mesh leggings available in sizes XS to 4X.
Even better, when you sign up as a VIP on Savage X Fenty​, you can get two pairs of these fab leggings for just $29.
It is free to sign up.
Skims
Kim Kardashian's celebrity fashion lingerie line is called Skims.
One of the company's taglines is "Underwear, loungewear and shapewear created for every body."
And that's true.
For example, when shopping for Skims at Nordstrom, sizes range from a 00 or extra small to 28W or 4X.
That truly is a size-inclusive line of clothing.
Teremana

Kate Green // Getty Images for Warner Bros.
Teremana is Dwayne "The Rock" Johnson's branded tequila.
It may well be his most successful business venture yet.
"Teremana" is derived from the Latin "terra" (earth) and the Polynesian "mana" (spirit), which combined means "spirit of the earth."
Launched in March 2020, Teremana became one of the fastest-growing celebrity tequila brands by the end of its first year.
Hello Bello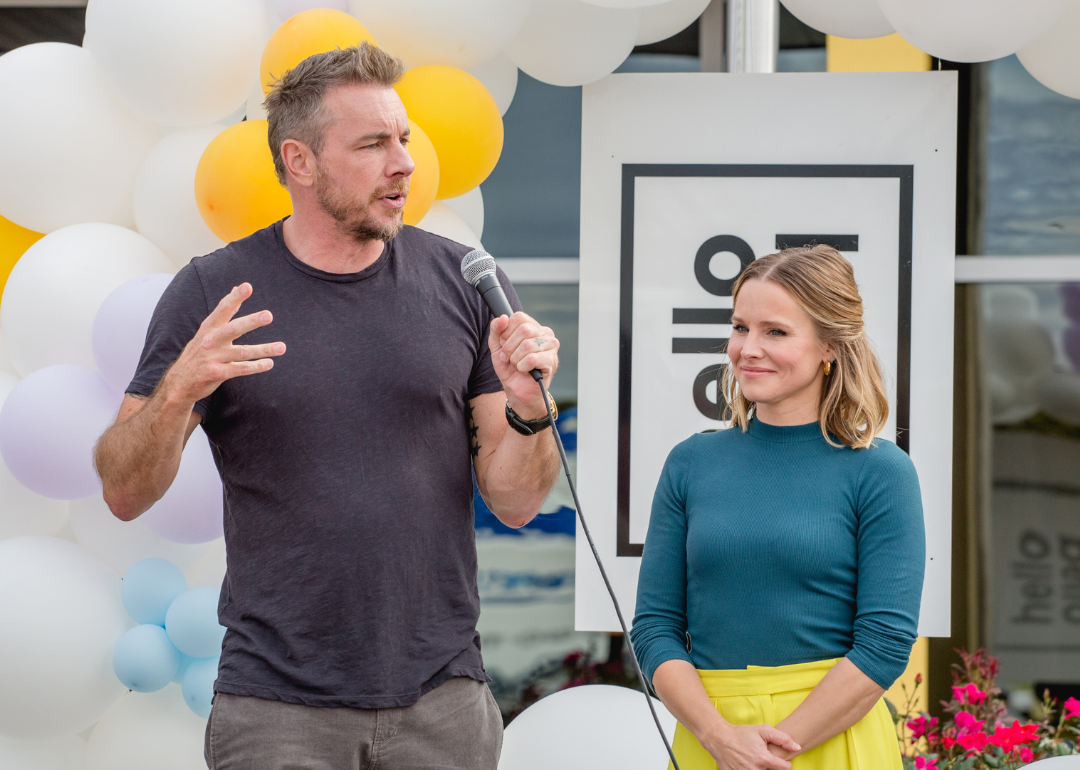 Rick Kern // Getty Images
Hello Bello is the celebrity baby products brand from husband-and-wife acting duo Kristen Bell and Dax Shepard.
They say that their two daughters inspired them to launch their all-natural baby products.
Hello Bello sells everything from diapers to sunscreen.
In fact, the Hello Bello mineral sunscreen is reef safe sunblock.
Not only do they keep Hello Bello's products eco-friendly and made with plant-based materials but also they want them to be relatively affordable.
That's why you can shop the Hello Bello store on Amazon.
EBY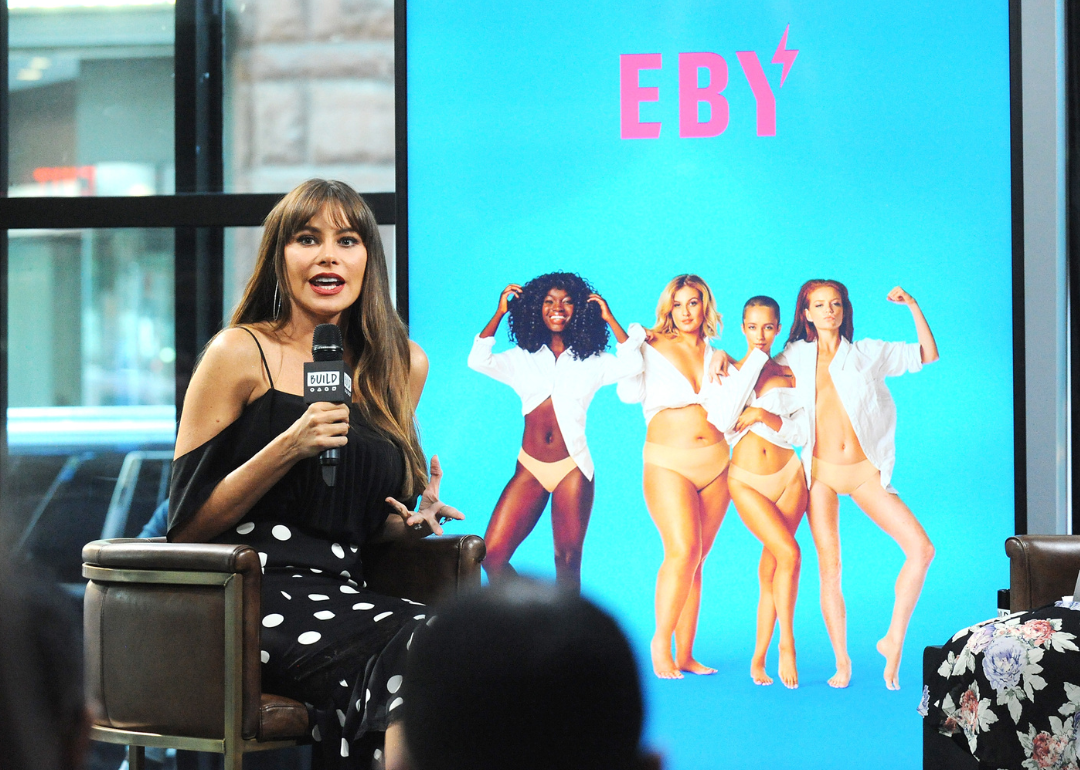 Desiree Navarro/WireImage // Getty Images
EBY, or "empowered by you," is "Modern Family" star Sofía Vergara's foray into the underwear market.
It is seamless underwear designed to prevent the dreaded wedgie.
EBY originally began as a subscription-based model.
However, these days you can buy EBY underwear, bralettes and more on Amazon.
And you can feel good about buying it.
That's because 10% of EBY's sales go to the Seven Bar Foundation, a nonprofit dedicated to lifting women out of poverty.
Avaline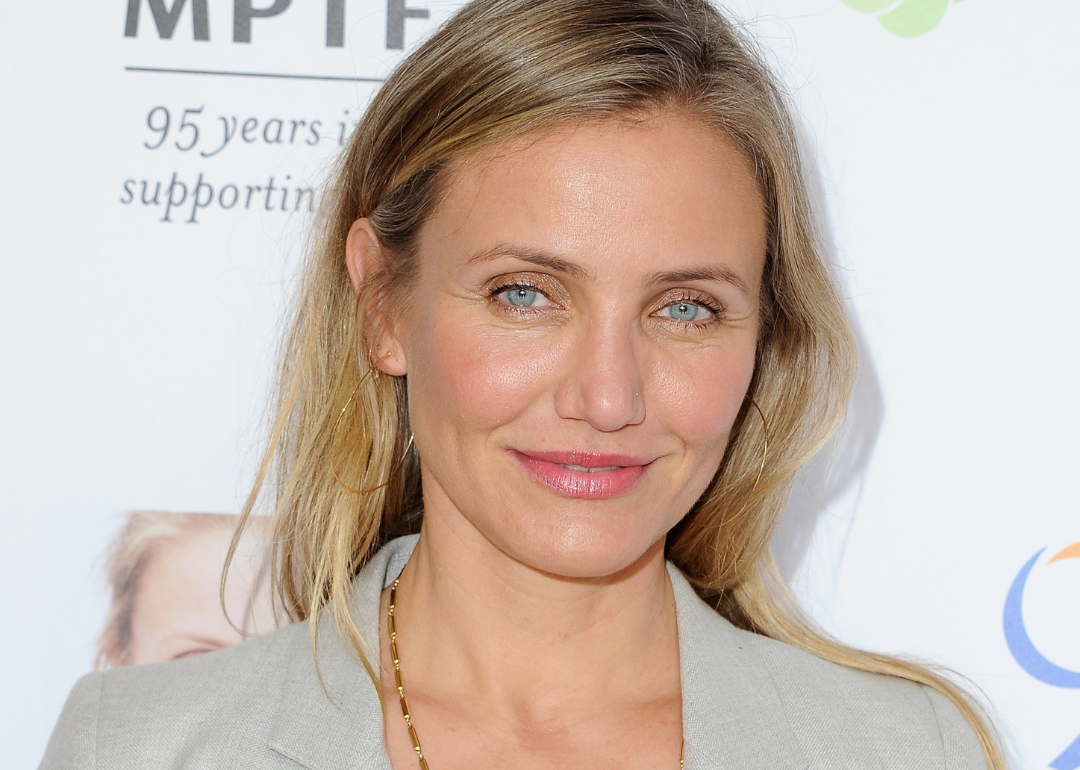 Jon Kopaloff/FilmMagic // Getty Images
Avaline is a celebrity wine brand from actress Cameron Diaz.
What's different about it, beyond its famous founder, is the fact that these are organically farmed wines.
In addition to using organic grapes, Avaline wine is free from added sugar, colors and concentrates.
Recently, I spotted a bottle of Avaline rose at Target.
Fabletics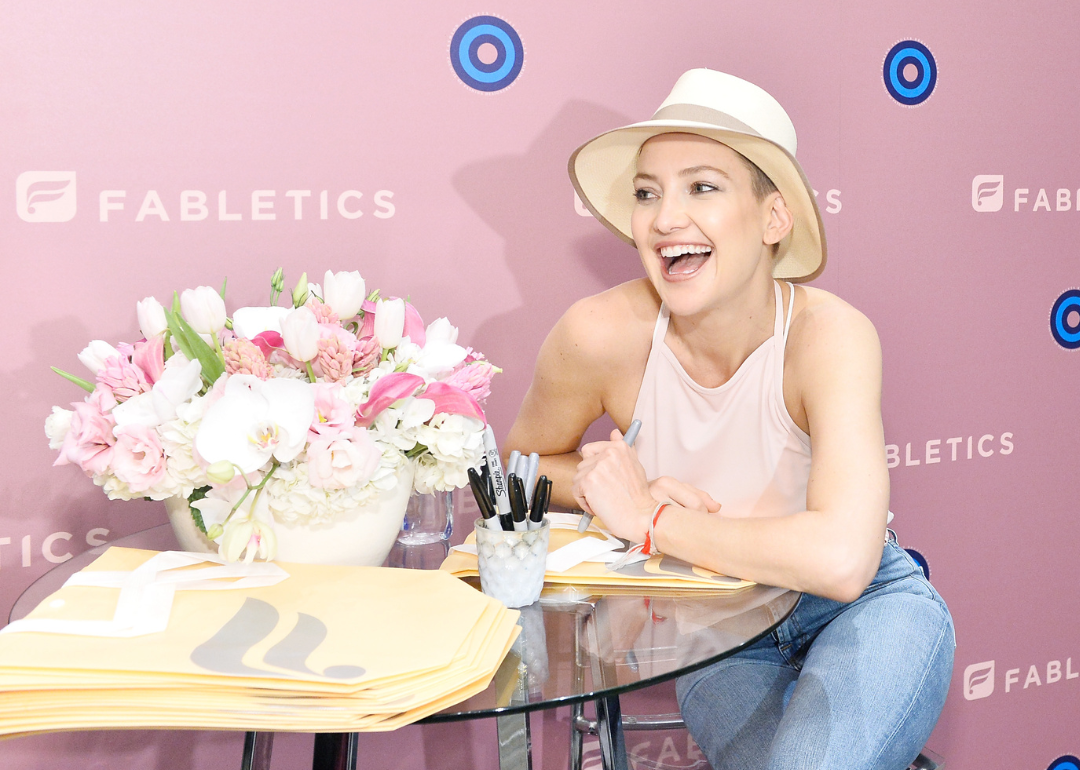 Stefanie Keenan // Getty Images for Fabletics
Founded by actress Kate Hudson in 2013, Fabletics is a brand of activewear that can be worn at the gym and beyond.
My daughters love subscribing to Fabletics.
Also, you can shop in person at Fabletics stores in some locations.
When I visited the Fabletics store in Pittsburgh, they featured the Lizzo brand of activewear called Yitty.
So, a celebrity athleisure brand within a celebrity fashion brand.
It's why I'd included Fabletics in my round up of the best plus size leggings.
Kinlo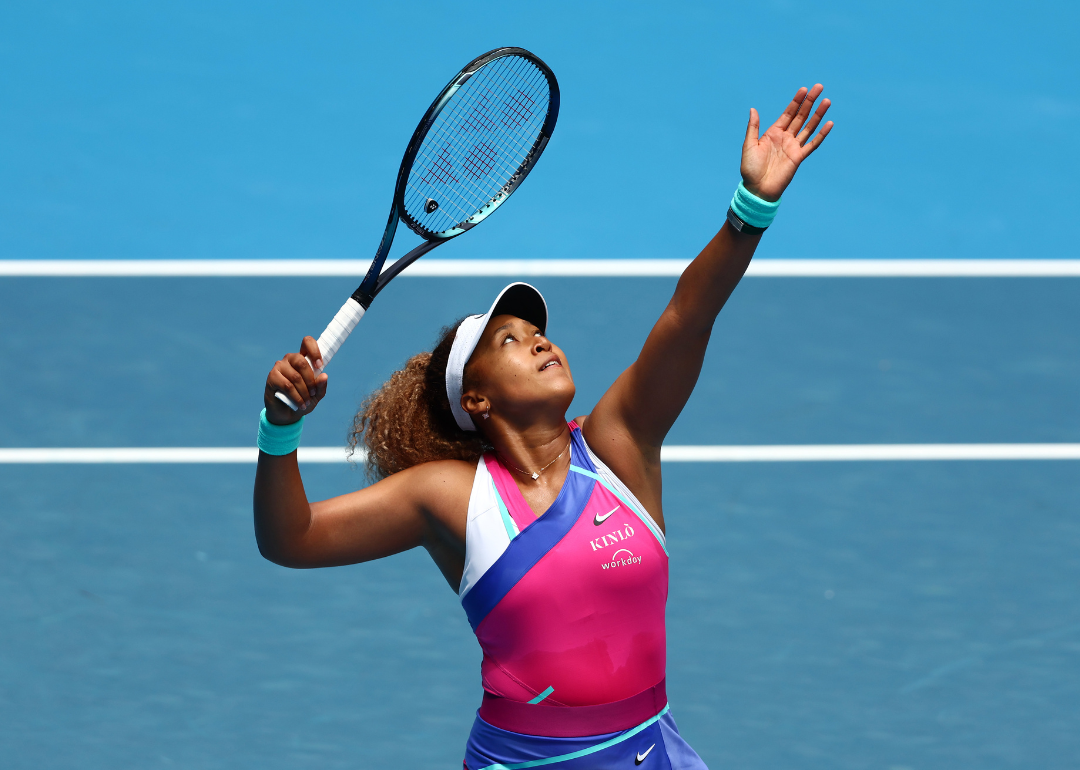 Clive Brunskill // Getty Images
Until researching this article, I wasn't aware that tennis champion Naomi Osaka had put on a new hat as a celebrity entrepreneur.
However, in 2021 she launched Kinlò, a line of sunscreen protection made especially for those with melanated skin.
Kinlo products include moisturizers, sunscreens, mists and body oils.
To keep things affordable, Kinlo products are available exclusively at Walmart stores–in person and online.
Honest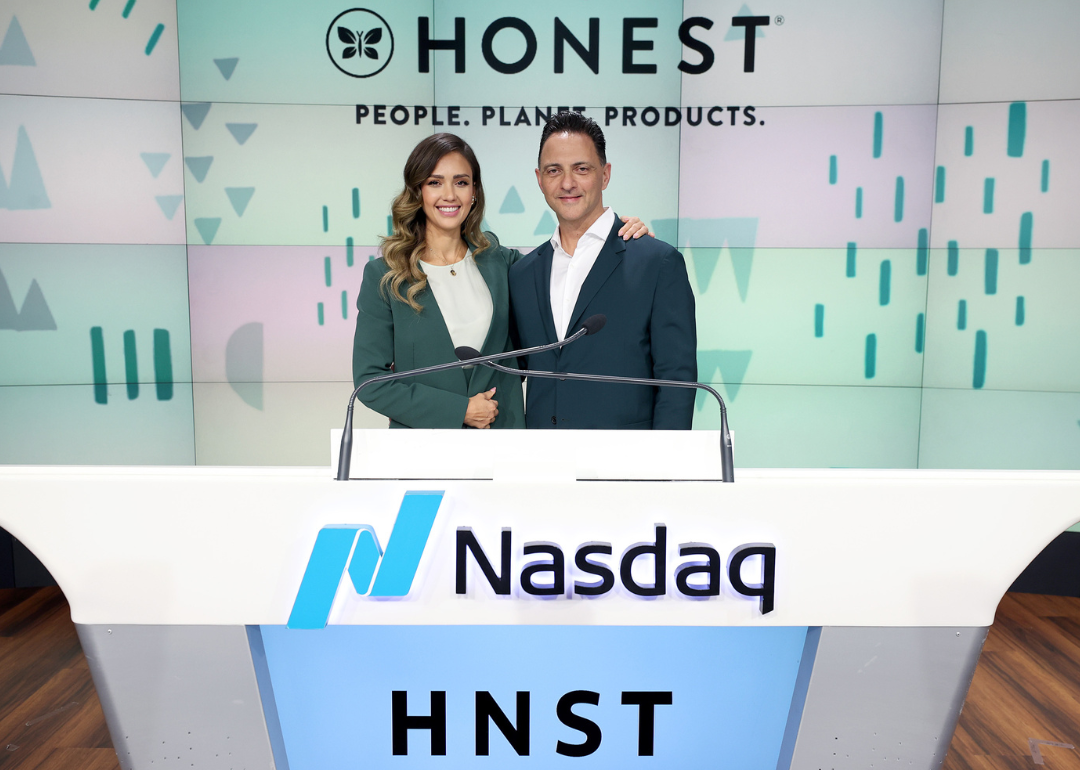 Dimitrios Kambouris // Getty Images for The Honest Company
Actress Jessica Alba is the brains behind the household brand The Honest Company.
It's billed as a celebrity brand that specializes in non-toxic products.
You may be most familiar with Honest diapers.
In fact, Honest may have been one of the first companies to offer a subscribe and save diaper subscription.
And it still does.
Risa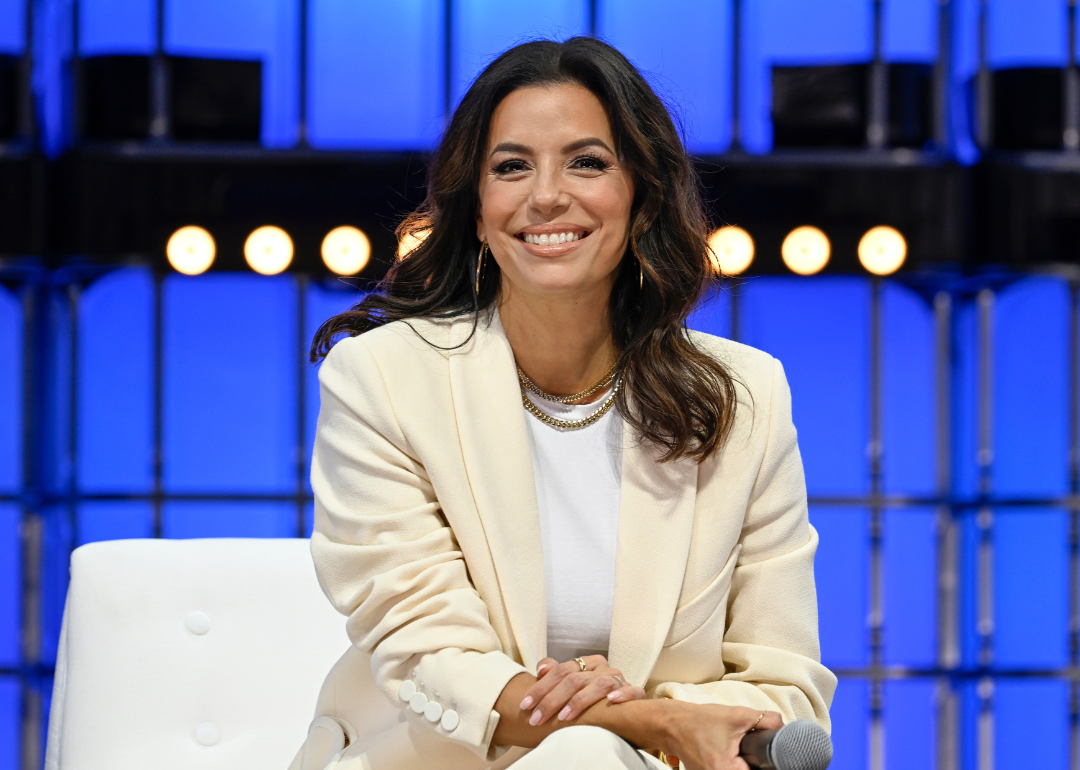 Horacio Villalobos#Corbis // Getty Images
Risa means "laughter" in Spanish, and it is actress Eva Longoria's celebrity brand of cookware.
Longoria had already established her love of food with her Mexican heritage-inspired cookbook "Eva's Kitchen: Cooking with Love for Family and Friends" published a few years ago.
Risa's cookware line is nonstick and nontoxic, but reviewers tend to rave about its clever handle design, which allows you to rest a pot cover on the handle.
You can shop the Risa store on Amazon.
Kinderfarms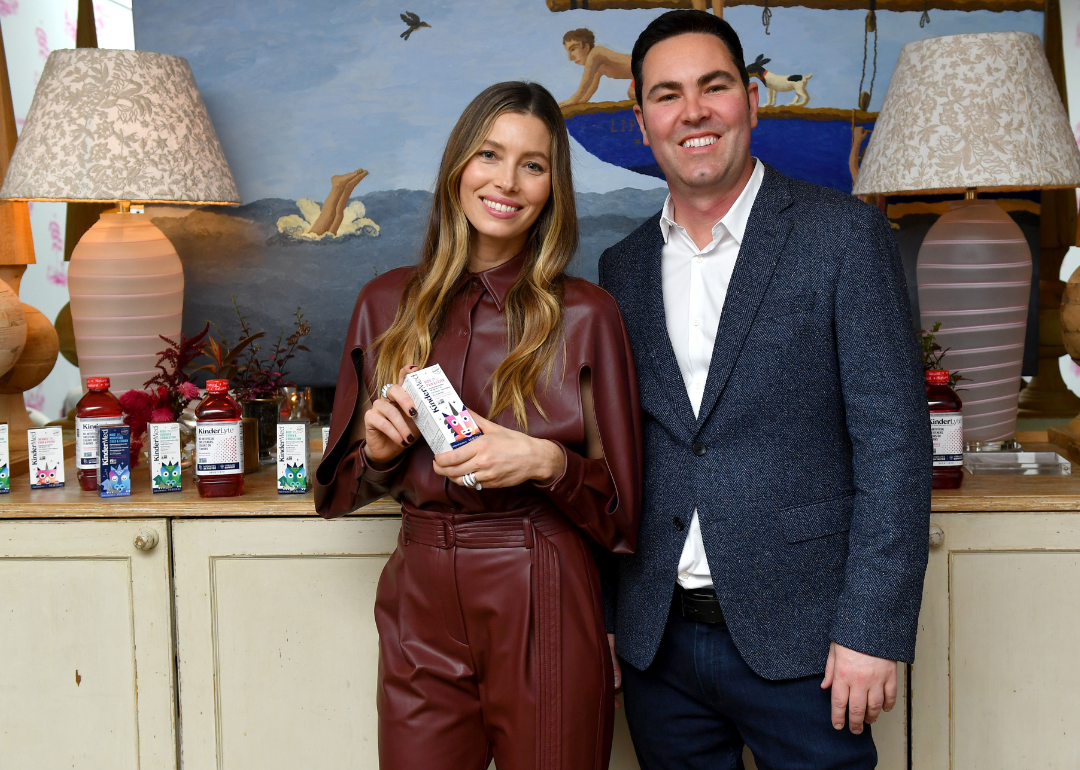 Noam Galai // Getty Images for KinderMed
Celebrity Jessica Biel created Kinderfarms, a wellness brand focused on families looking for healthier alternatives to children's over-the-counter medicines.
That is, products without artificial colors, flavors and sweeteners.
Shortly after the brand's launch, she released Kinderfarms' first product, Kinderlyte.
It's a natural electrolyte drink.
Kinderfarms also offers medicines to relieve children's coughs, colds and fevers.
There is a Kinderfarms store on Amazon.
Dos Hombres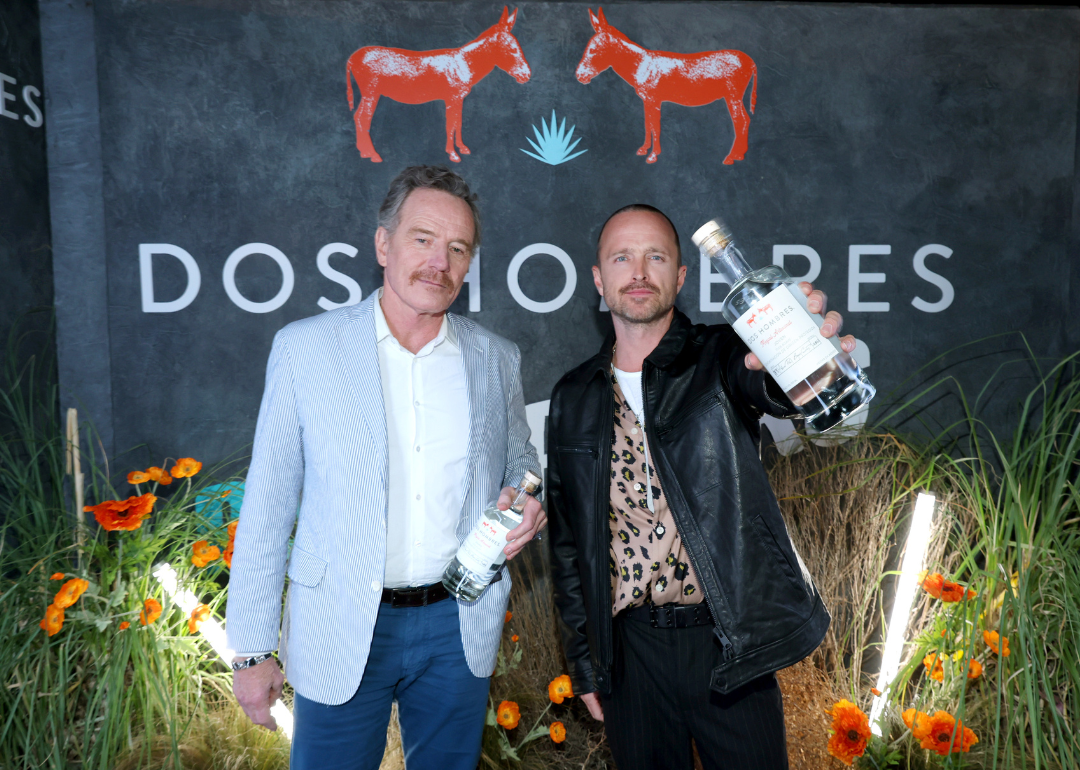 Rich Polk // Getty Images for Dos Hombres Mezcal
As a fan of the show "Breaking Bad," I find something hilarious about the fact that actors Aaron Paul and Bryan Cranston got together to start a celebrity mezcal brand.
Called Dos Hombres, it has established itself as one of the leading mezcals on the market.
Portions of this story originally appeared on Shopdog and was produced and distributed in partnership with Stacker Studio.