Who doesn't love the idea of frugal Halloween costumes? Considering that spending on Halloween overall increases each year, it's a good idea to think about ways you can do Halloween on the cheap and especially this year.
According to the National Retail Federation, this year's Halloween spending is expected to be the second highest Halloween spending since the recession. Not only are humans getting into the spirit of Halloween for themselves and their children but also for their pets. Popular pet costumes include a hot dog, pumpkin or bumblebee. On average we are likely to spent just under $100 on Halloween.
While $100 may not be a budget-busting amount, wouldn't it be great if you could shave just 10% off your Halloween budget? That's why I've put together this post on frugal Halloween costumes, DIY Halloween decorations and how to save money on Halloween candy–among other savings–to help you do Halloween on the cheap.
Portions of this article originally appeared on Parade.com.
Frugal Halloween Costumes and Ideas
Here is one of the most frugal Halloween costumes I'd ever created. I turned a Twister game mat into a poncho and wore it for my costume. I took the spinner and wore it around my neck like an oversized medallion. Yes, I dressed up as a Twister game. And you know what? It was super cheap and it kept me warm on a chilly trick or treating night.
I believe this Twister game costume is one of the best frugal Halloween costumes out there. It is an easy Halloween costume for kids (though you might have to trim the Twister mat so they don't trip) and definitely a cheap adult (as in grownup) Halloween costume.
Shop a thrift store
Another way to get cheap Halloween costumes? Visit a local thrift or resale store. One year the folks from Savers stores wanted me to know that in addition to buying used clothing at their resale stores, you can get new stuff there, too. That's true with Goodwill and other thrift and resale stores as well. I've seen signs outside thrift stores these days that encourages shoppers to stop in for their frugal Halloween costumes there.
One year I took my youngest daughter to a local thrift shop so we could create a "hippie" costume for her. There, we purchased an authentic 70s polyester blouse and white go-go boots. She used her own white tights, mini skirt and headwrap, and borrowed a pair of big-as-your-head sunglasses from a 70-year-0ld aunt, who wore those big-as-your-head sunglasses on her head in all seriousness in the 70s. Final cost for the costume? $17.50.
Use what you already own
Want to be a cowboy, cowgirl or Jessie from Toy Story for Halloween? Add a bandana to a pair of jeans and a denim shirt, find yourself a red cowboy hat, and you're good to go. Interested in being the bride of Frankenstein? You can finally wear your wedding dresses again! A Breaking Bad fan? Get yourself a yellow hazmat suit, some goggles or gas mask, and blue gloves, and everyone will know exactly who you are.
Never got around to watching Breaking Bad? You can watch it for free–along with thousands of movies and TV shows–when you join Amazon Prime. Start your free trial now,
Try not to overthink your costume. A trench coat and fedora turns you into a detective or private eye in no time, and chances are you or someone you know has a coat or hat you can borrow. Do you have a super hero t-shirt? Add a cape or a mask and maybe some tights, and your costume is all done.
Here are some ideas for awesome dog Halloween costumes.
Rent a Halloween Costume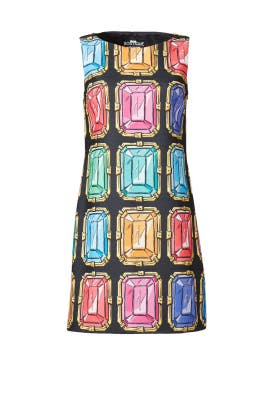 Would you ever consider renting a Halloween costume? I believe it could be a smart use of your time and money.
I have an affiliate relationship with Rent the Runway, which has ideas on how to emulate some of the most swoon-worthy female icons from past decades. The company also rents dresses and accessories for weddings, proms and other special occasions.
Using dresses and accessories that you can rent from Rent the Runway, you can create a costume to be:
Glamour girl Marilyn Monroe
Swinging 60s modster Twiggy
70s songstress Diana Ross (Did you know that Diana Ross is Blackish actress Tracee Ellis Ross's mom.)
Below is a picture of all three costumes, followed by pictures of one of these ensembles broken out. I've included links right to Rent the Runway to make it easier for you to rent a Halloween costume.

For a Twiggy inspired vibe, add a pair of sparkly boots with these mod-pieces:
Rent the Runway also has ideas for Halloween costumes you can rent and that are inspired by your favorite TV shows. These include Game of Thrones and Stranger Things.
Speaking of Game of Thrones, keep in mind that Jon Snow's fur cape was actually a faux fur rug from IKEA. Maybe that can be the basis of your frugal Halloween costumes.
How to Save Money on Halloween Candy

Start clipping coupons now. I noticed that in my last Sunday circular that there were a ton more candy coupons. I'm sure it's timed to go along with Halloween shopping and that's OK.
Don't get the Sunday paper anymore? You can always go online at Coupons.com to download and printout coupons to help save money on Halloween candy. Don't forget Ibotta, too–which gives you cash back on your grocery and other shopping.
Also, when buying Halloween candy, don't always go for the candy that screams HALLOWEEN. What I mean by this is, for example, the Peppermint Patties with the orange center or the pumpkin-shaped Reese's Peanut Butter Cups are going to be more expensive than the regular versions of these popular candy snacks. Plus, you'll probably get more per bag by buying "regular" versus the "holiday" versions of candy. (This advice applies to sweets for Christmas, Easter and Valentine's Day, too.)
DIY Halloween Decorations

Use what you already own for decorations. One of my favorite Halloween decorations is a scarecrow, something I remember my mother making each year when I was a kid. The scarecrow would sit on the front stoop and "greet" our trick or treaters. She would use her "grubs" (grungy clothes she wore for gardening) to dress the scarecrow. All she needed to buy was some hay. If you don't have any "grubs," you could raid your hand-me-down clothes or the ones you were going to donate to charity, and use them to make your scarecrow. After Halloween, compost the hay and keep the clothes for next year's scarecrow.
Grow your own DIY Halloween decorations
Another idea? Grow your own pumpkins. We did this, quite by accident one year, but it was awesome! You see, we had a small, raised "bed" next to our house, and this was where we dumped our grass clippings after mowing. It's also where we also composted food scraps.
One year we dumped the seeds and "guts" of the pumpkins that we'd carved for Halloween into this pile of compost. Keep in mind this was no fancy compost. We'd just outlined a rectangular area with pavers, in a sunny spot in our yard, and just kept filling it with grass clippings.
Fast forward a year, and we had pumpkin vines taking over our yard. Without doing anything at all, we'd grown ourselves enough pumpkins to decorate for that Halloween. Do you have a sunny spot in your yard where you can try this DIY trick?
Kids Eat Free on Halloween

Halloween happens to be one of those food holidays that I've covered and during which you'll usually find tons of kids eat free deals. What a great time to be off the hook for cooking dinner–Halloween night. Some of the restaurants I've heard of letting kids eat for free on Halloween include Waffle House, White Castle and Chili's.
How to Reuse Halloween Candy

No, I'm not suggesting that you keep last year's Halloween candy around and reuse it this year. Rather, here are five ways to reuse Halloween candy to help you save money on lunches and future celebrations:
Freeze it for later use. Toss the chocolate candy in the freezer so it doesn't melt or spoil before you can enjoy it. When you get a sweet craving, you'll know where your stash is (albeit cold but fresh).
Bake with it. I know plenty of at-home chefs who raid their kids' M&Ms and Snickers bars, and use them to whip up some delicious desserts.
Pack it in lunches. To me excess Halloween candy=saving money on packed lunches. You can probably get away with no snacks necessary for a month if you start using the Halloween candy in your kids' (or your own) lunchboxes.
Use it for crafts. I think the best crafty way I've seen for reusing Halloween candy is to save and use it for a holiday Advent calendar.
Stockpile it for future celebrations. I've heard of moms who repurpose Halloween candy into the goody bags they give out for the kids' birthdays. Guess that would be a money saver, huh?