Airports Under Construction
THIS POST MAY CONTAIN AFFILIATE LINKS, WHICH MEANS I MAY BE COMPENSATED IF YOU CLICK A LINK. THERE IS ABSOLUTELY NO COST TO YOU. ALSO, AS AN AMAZON ASSOCIATE I EARN FROM QUALIFYING PURCHASES.
If you've flown lately, then you've probably noticed how many of the airports you've been through are under construction. I know that the last few times I've flown to a New York City airport, I had to navigate a labyrinth of lane closures and closed gates.
Want to know the reason behind all of these airport renovations? The transformations are thanks in part to the Biden Administration's Bipartisan Infrastructure Law.
This allocated $1 billion to 99 airports nationwide for terminal expansions, improved security screening areas, better passenger experiences (including baggage handling), and more. In some cases, funding is also coming from the airlines themselves.
U.S. airports under construction and tips for navigating them
The U.S. Travel Association is forecasting a surge in air travel. Not only will travel surpass pre-pandemic numbers from 2019, but also it may become the biggest demand the U.S. has ever experienced.
At the same time, airports throughout the country are undergoing major transformations and, in some cases, being entirely rebuilt. The goal for many is to offer new travel experiences for the modern age. This is important since some U.S. airport terminals are over 40 years old on average, according to the Airports Council International-North America.
To take a deeper look at some of the transformations happening across the country, TravelPerk compiled a list of 15 U.S. airports. These were the ones where renovations are well underway, construction is about to begin or everything has recently been completed.
Read on to see if your local airport is getting a facelift and what you can expect on your way to the friendly skies.
Los Angeles International: LAX Airport Construction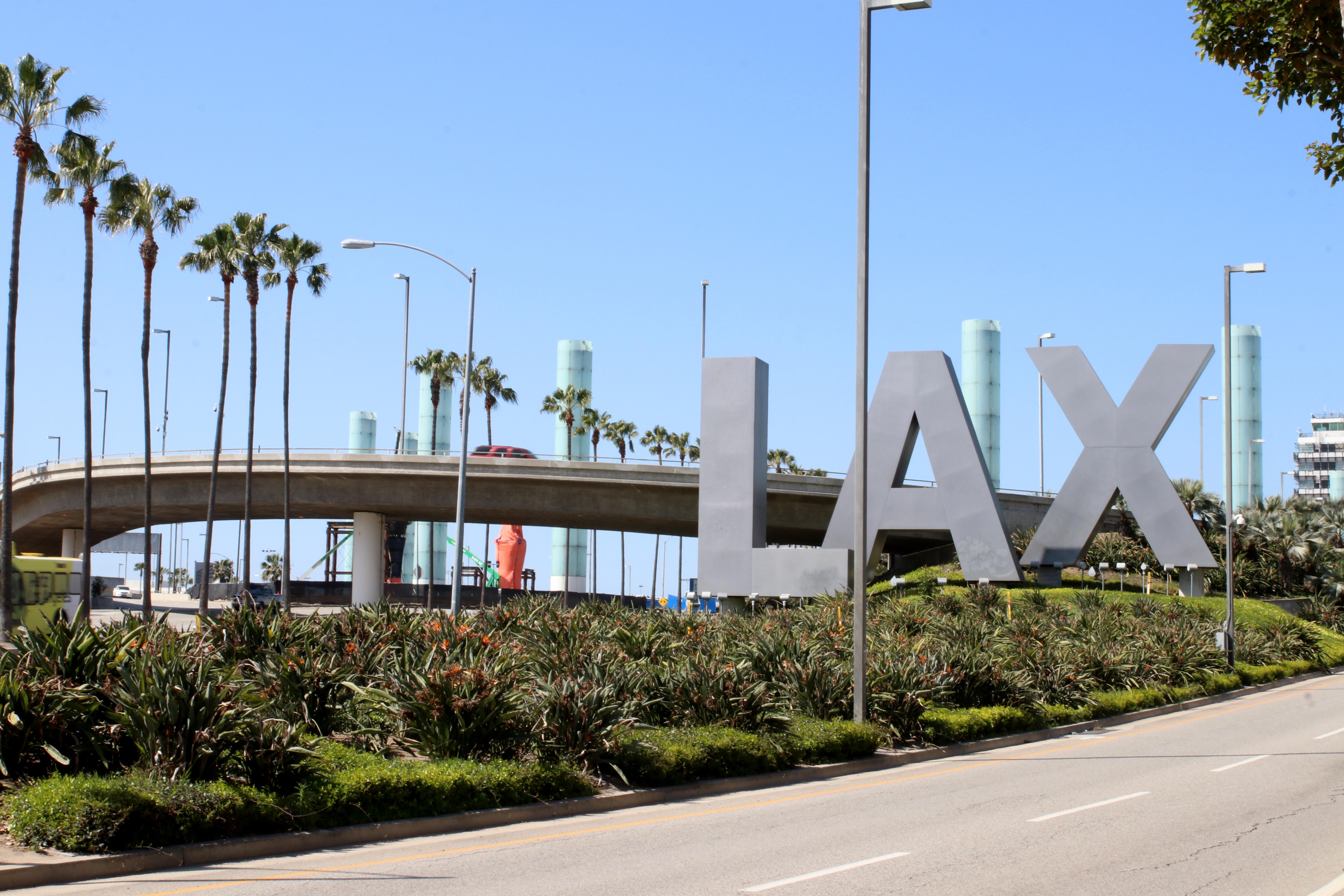 Eric Glenn // Shutterstock
At Los Angeles International Airport, LAX construction on an Automated People Mover has been in the works since 2019. This new electric-powered transit system will connect LAX to the city's public rail system via the future LAX/Metro Transit Center Station.
Both should open in 2024. However, this is just one aspect of the $15 billion overhaul of the airport, whose "jet age" iteration dates back to 1961.
The investment is helping modernize terminals in advance of the 2028 Olympic and Paralympic Games. Construction includes:
building new parking facilities
improving roadways
consolidating rental car facilities and more
In the meantime, you'll find road closures between parking structures 3 and 4 and around the Theme Building. Plus, there's ongoing construction inside Terminal 3. This LAX construction will allow direct passenger access to the Tom Bradley International Terminal without getting screened again. The Terminal 4 construction? That's where the aforementioned People Mover will connect.
John F. Kennedy International (JFK) Airport Construction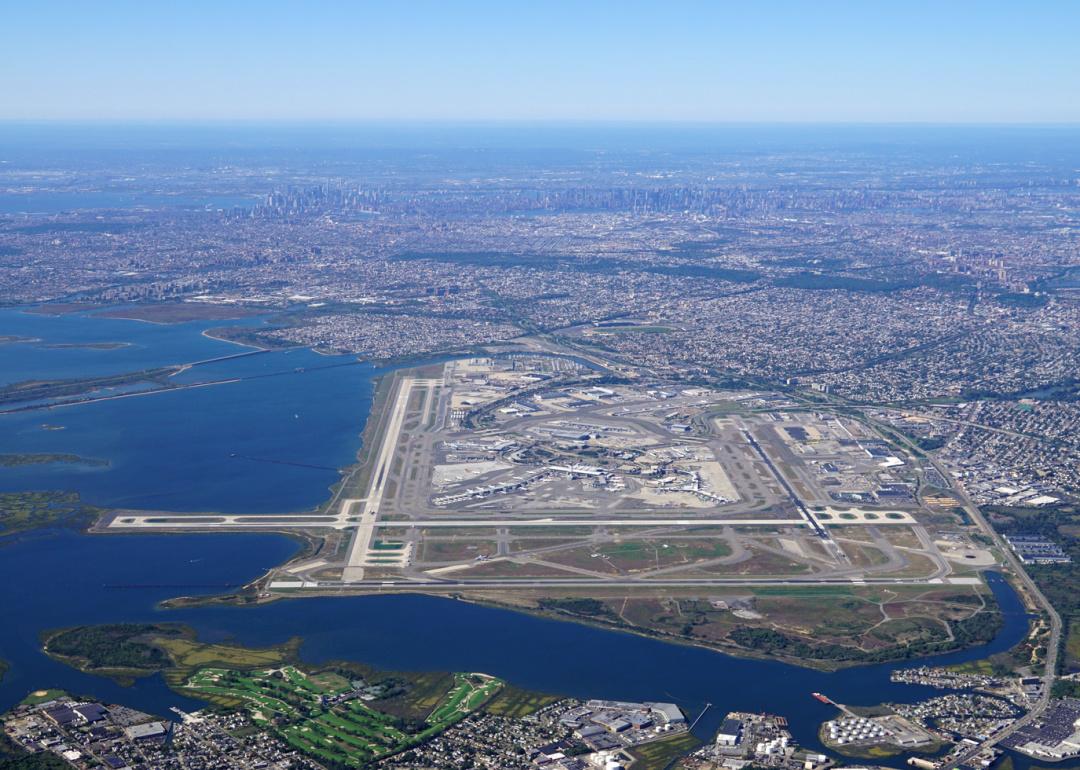 EQRoy // Shutterstock
The Port Authority of New York and New Jersey is entering the heavy construction phase of its $19 billion project to build "A New JFK." It's going to be a major transformation of one of the busiest airports in the U.S. Considering that this airport opened in 1948, I'd say it's long overdue.
JFK has added new terminals since then. The most notable one was the JetBlue terminal, aka Terminal 5, in 2008.
Also notable: the TWA Hotel in the old TWA Terminal. Not only is it the dog-friendly part of JFK Airport but also it's an airport hotel with Peloton bikes.
The latest construction at JFK Airport involves building a new international terminal. They broke ground on the project in September 2022. It's expected to open in 2026 as the new Terminal 1.
In the meantime, JFK razed Terminal 2 to make way for the new Terminal 1.
According to The Points Guy, "Terminal 2 first opened on Nov. 18, 1962, and it was jointly operated by three now-defunct or nonexistent airline brands: Braniff, Northwest and Northeast."
More construction coming soon at JFK
Other terminals are getting facelifts, too:
A new mega-terminal will replace Terminals 6 and 7 (forecasted to open in 2028)
Terminals 4 and 8 will both see reboots as well
What does this mean for you getting to and from the airport? Expect rerouted traffic, fewer parking options and relocated rideshare pickup areas.
The Port Authority recommends taking public transportation to the airport while these improvements are underway. I say take public transportation whenever possible because New York traffic is a nightmare.
In fact, the last two times I flew into JFK (to take live classes at Peloton Studios New York), I took the the AirTrain driverless people mover to the Jamaica Long Island Railroad Station (LIRR). There, I caught an LIRR train to Penn Station.
However, once the Terminal 1 construction begins, the AirTrain station will close. Then, you'll need to take a shuttle bus to get to public transportation. That sucks. I'll probably just catch the subway into the city after that — that's another option from JFK.
LaGuardia Airport LGA Renovation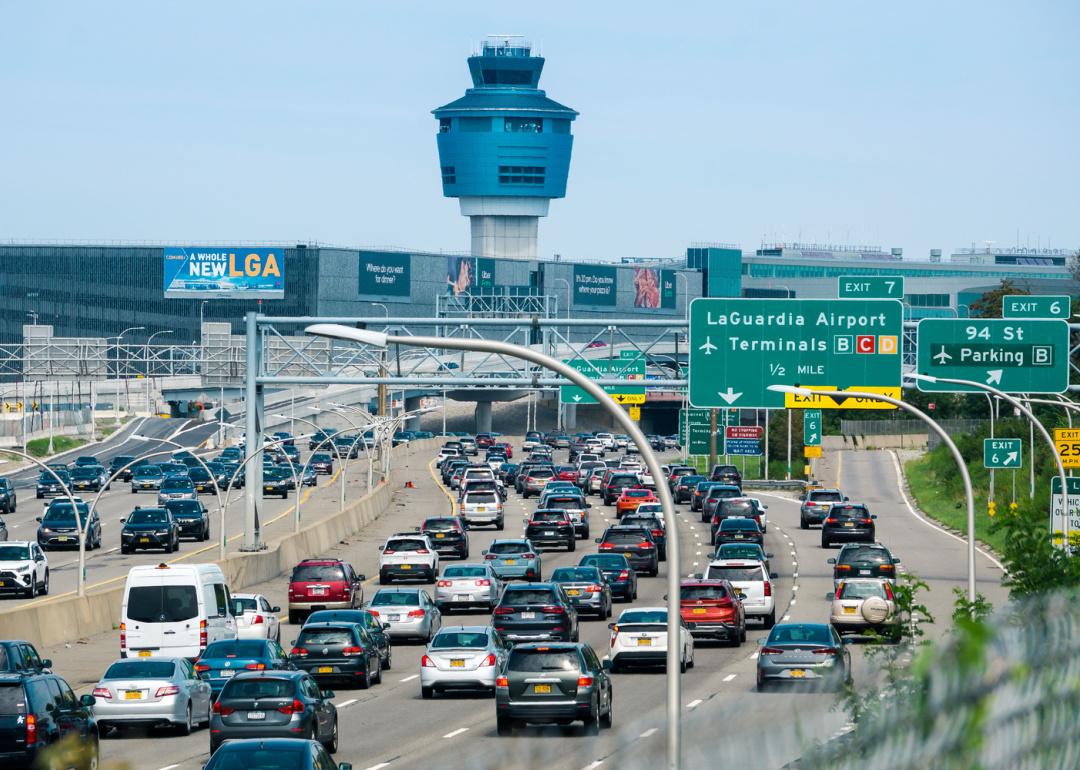 Renata Ty // Shutterstock
Since 2016, there's been a whole lot of construction at New York City's LaGuardia Airport or LGA. Here are some of the changes:
A new Terminal B, which opened in 2020 and replaced the original 1964 terminal.
Delta's new Terminal C, which replaced the old Terminals C and D in 2022.
These new terminals operate alongside the historic Art Deco-style Marine Air Terminal (aka Terminal A), built in 1939.
All together, this was an $8 billion airport transformation. Essentially, they constructed a whole new airport.
However, boy, did LGA need this transformation. Many considered LGA to be one of the worst airport travel experiences, as reported by The New York Times. However, despite the recent improvements, LGA has a long way to go.
For example, there is no AirTrain option at LGA. There was supposed to be one. However, the Port Authority scrapped it earlier in 2023. In the meantime, the only options for getting to and from LGA are taxi/rideshare, driving, or MTA bus.
So, here's my pro tip for you, from someone who lived in New York City for many years. Whenever I needed to get to LaGuardia, I would take the 7 train to 74 St-Broadway. (The 7 train runs above ground so it's a pretty trip, too, through Queens neighborhoods.) Once you exit the 7 train, catch the Q70 bus to LaGuardia.
Dallas-Fort Worth International Airport (DFW) Expansion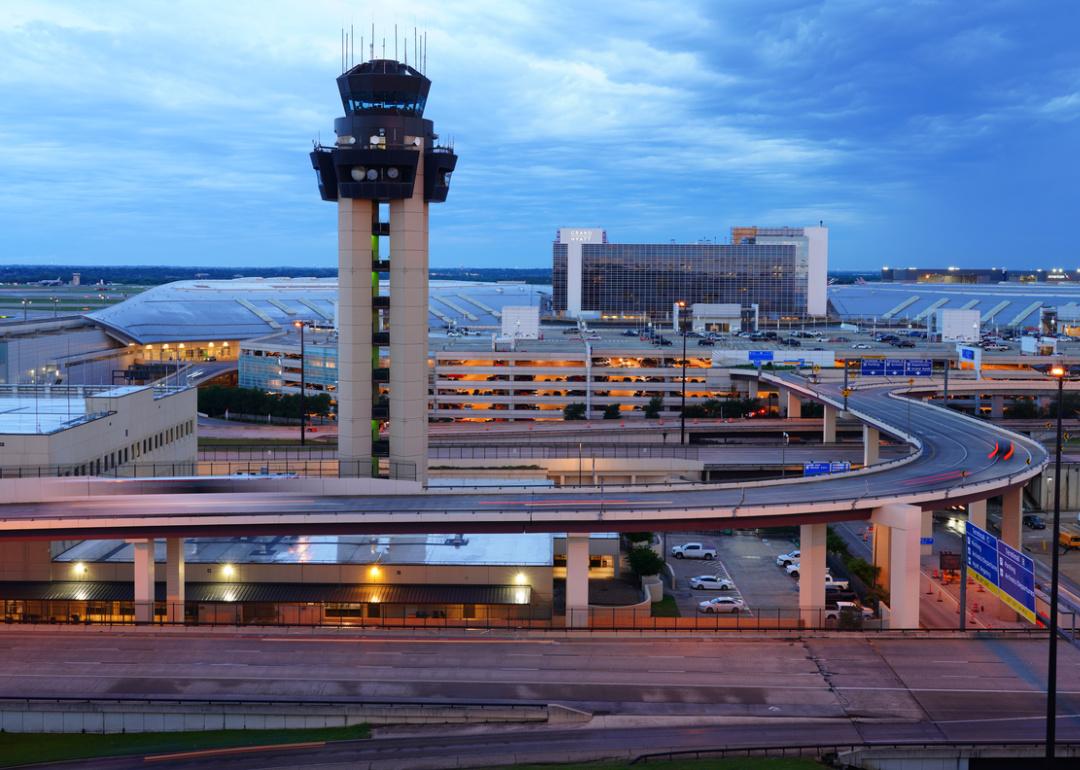 EQRoy // Shutterstock
Dallas-Fort Worth International Airport is the second-busiest airport in the world, according to Airports Council International. And with its new $4.8 billion plan, it'll increase its passenger and flight capacity with a new 15-gate Terminal F. That project alone, set to take place from 2024 to 2026, will cost $1.63 billion.
And then there's the $2.72 billion renovation of the airport's Terminal C. That terminal dates back to the airport's opening in 1974 (when people called it DFW Regional Airport). Terminal C is the country's largest airport hub for American Airlines, which already constitutes 80% of the airport's traffic.
In case you didn't know how big the DFW airport construction and expansion will make it, consider this. The entire DFW property covers more surface area than the entire island of Manhattan in New York City.
Finally, DFW is one of a handful of U.S. airports with Capital One Lounges. They're remarkable because they have Peloton bikes.
Orlando International Airport (MCO)
VIAVAL TOURS // Shutterstock
Florida's Orlando International Airport became the world's seventh-biggest airport in 2021. This despite pandemic-imposed travel restrictions.
Also, with the completion of its new Terminal C, it expanded the airport's capacity by more than 10 million passengers.
However, despite construction on Terminal C, there are still some things lacking. For example, if you need to make a connection within the terminal, be prepared to walk. There aren't any moving walkways and none are planned.
On the other hand, if you must make connections to another terminal, you can get a ride. Passengers can transfer between the main terminals (Terminals A and B) and Terminal C by hopping on the Terminal Link people mover or a shuttle bus. Both operate 24 hours a day.
While Terminal C is done, the construction continues. The Greater Orlando Aviation Authority has earmarked $69 million in federal funds for the following:
new connections to high-speed rail
additional parking facilities
a pedestrian bridge
a rental car lobby (great news since many rental car agencies are located off the airport property).
Finally, have you ever wondered why Orlando's airport call letters are MCO? Originally, it was the McCoy Air Force Base.
Boston Logan International Airport (BOS)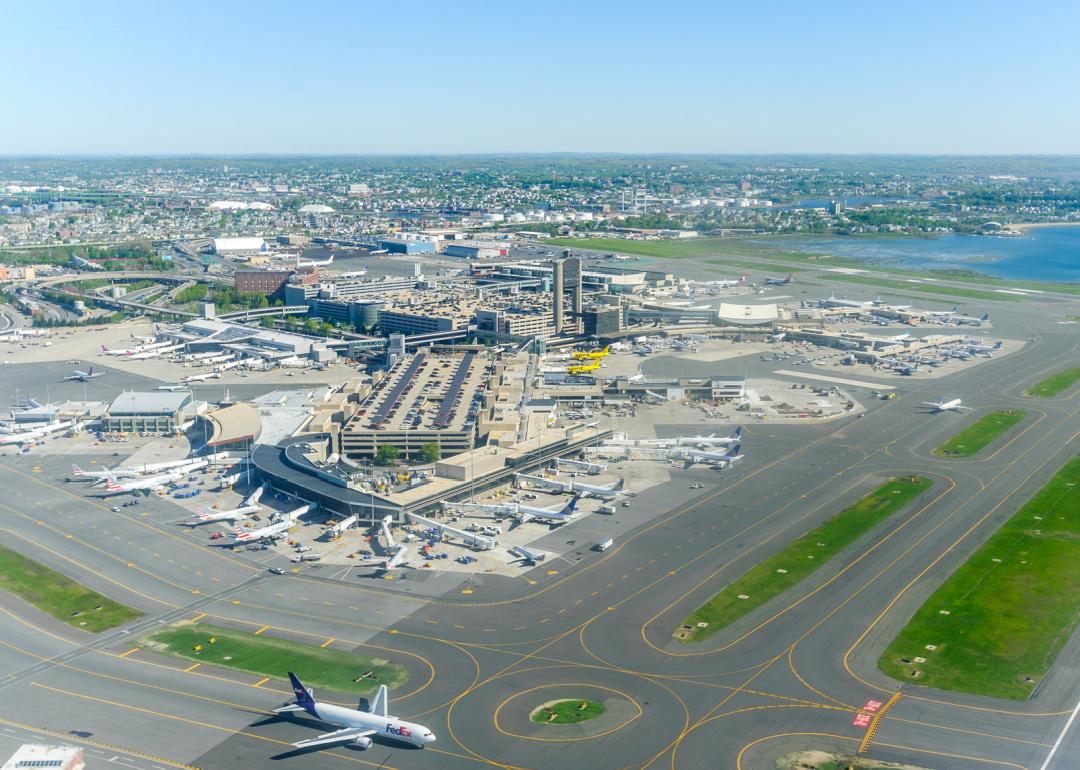 ruimc // Shutterstock
Ever since the Big Dig back between 1991 and 2006, it seems like Logan airport construction never ends. I mean, of course there was a break at some point. But now, for example, the Sumner Tunnel coming out of Logan is closed on nights and weekends. Like I said, it never ends.
Anyway, the big project now is the Logan Forward initiative from Massport, the airport authority of Massachusetts. It involves modernizing and expanding Boston Logan Airport's international terminal, Terminal E. That terminal will receive four new gates and a new 320,000-square-foot addition.
A couple of Logan's other terminals are getting some work done, too. This includes Terminal C, which will get a post-security connection to Terminal B.
Other improvements include better traffic flow at the curb and curbside protection from the elements. That means, however, that there are some road closures, lane closures and detours on the Arrivals level until future notice.
Chicago O'Hare International Airport (ORD) Expansion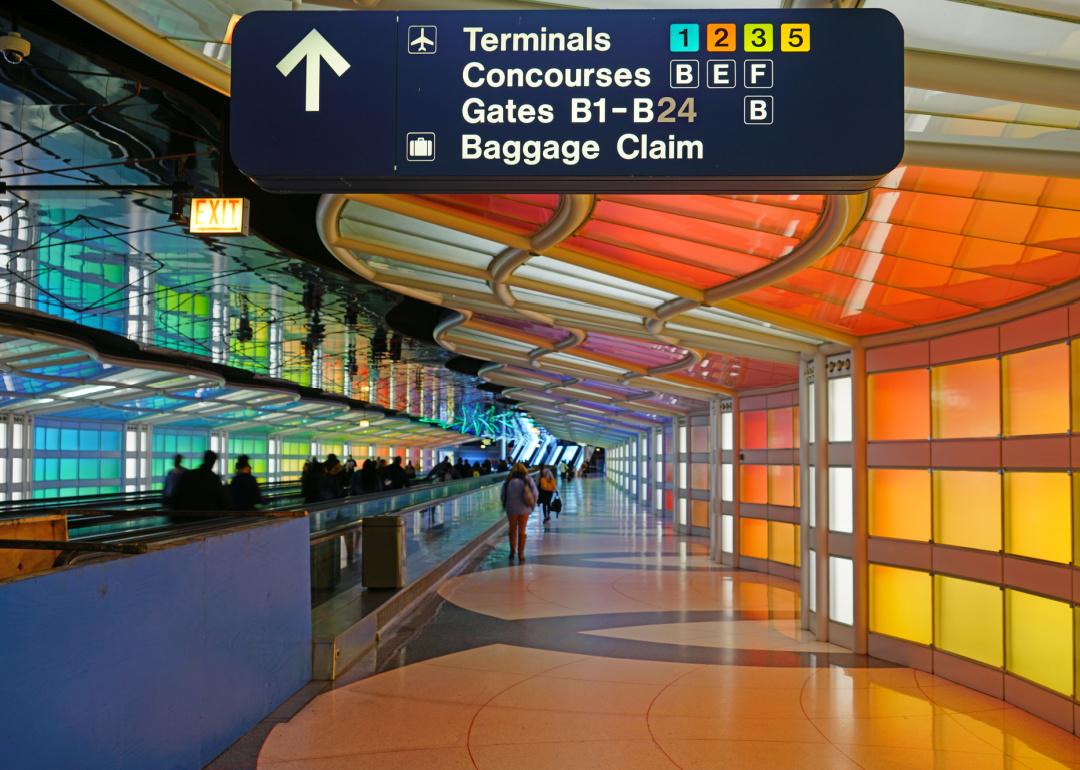 EQRoy // Shutterstock
O'Hare 21 is a $12.1 billion plan to overhaul Chicago's largest airport "from curb to gate"—and it's already well underway. Although improvements will continue for the next decade, there are two major milestones on the horizon.
One, Terminal 5's expansion will be complete.
And, two, the airport will start construction on two satellite concourses.
The airport is building them so they can demolish Terminal 2 without affecting travelers too badly. Then, they'll build a new Global Terminal for both domestic and international flights. However, construction on that Global Terminal isn't supposed to start until 2026.
Outside of flying, O'Hare is looking to fix parking issues. Right now, parking options are extremely limited. That's why O'Hare is building a new, six-story parking garage.
So, if you're heading to O'Hare and need to park — and Lot D is full — here are your alternatives: Economy Lots G and H and the main parking garage. All are just a short ride away via the Airport Transit System.
Denver International Airport (DEN)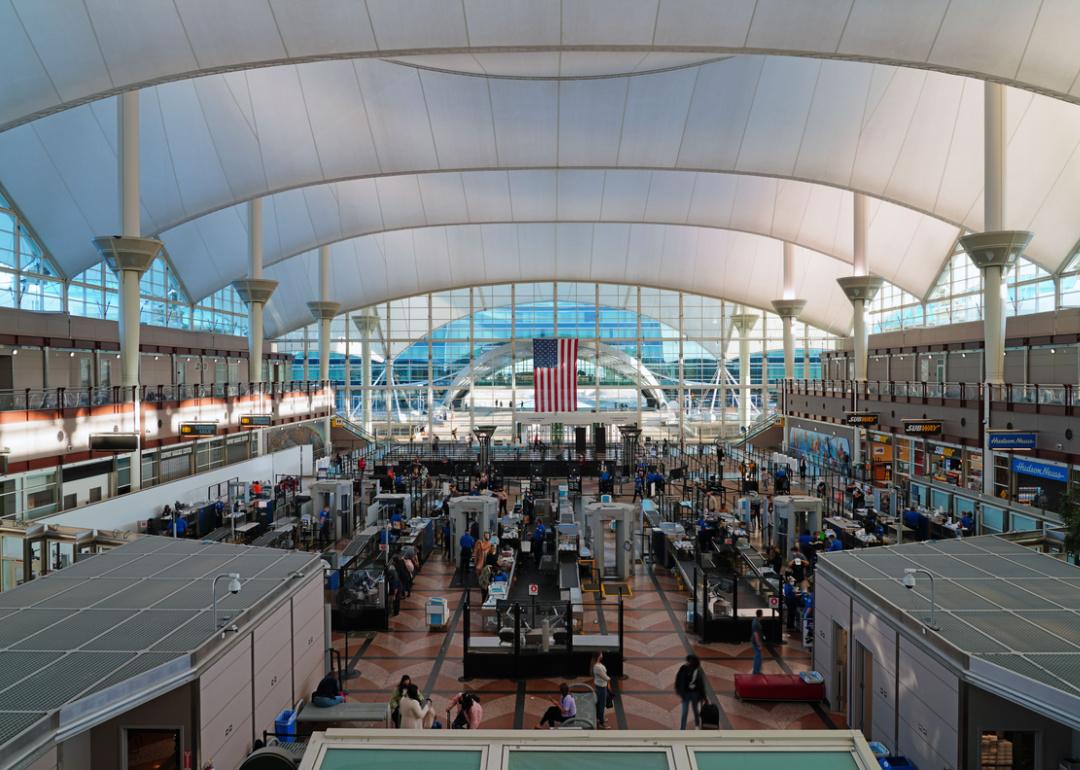 EQRoy // Shutterstock
Currently, Denver is United Airlines' Rocky Mountain region hub. It's the second-largest hub in the country. And now the airline is doubling down on its presence in the Mile High City.
On deck? Twelve 12 new gates, three new United Club locations, six new routes and almost 200 brand-new Boeing planes.
Meanwhile, DEN is also undergoing the Great Hall Project. This will improve the Jeppesen Terminal's ticketing areas and create a new security checkpoint, among other renovations. It should be done by 2028.
Finally, the greater Denver, Colorado area probably hasn't had to live through this much airport construction since Denver International Airport replaced Stapleton Airport at the end of the last century.
San Diego International Airport (SAN)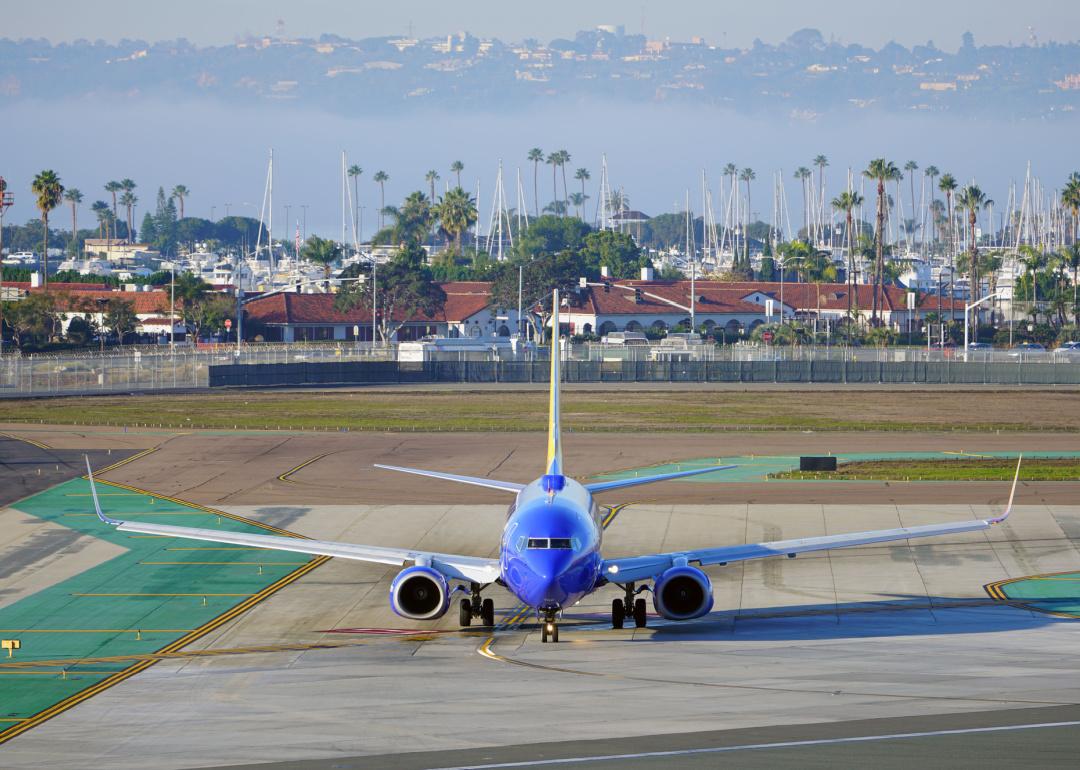 EQRoy // Shutterstock
The big news with construction at San Diego International Airport is the Terminal 1 renovation. Considering this terminal opened in 1967, it needed it and here's why. Back in 1967, Terminal 1 says 2.5 million passengers annually. Fast forward to today, and that number has exploded to 15.6 million travelers annually.
So, in 2021, the San Diego Airport Authority broke ground on a $3.4 billion replacement terminal. It's got the fancy new name of the New T1.
The first phase is slated to open in late summer 2025. It will feature high-profile restaurants and bars to greatly expand upon the airport's dining (as well as shopping) options.
However, by the time it's completed in early 2028, it will be so much more than just shopping and dining. There will be 30 new gates, more gate-area seating, a streamlined new security checkpoint, and added energy and water conservation.
In the meantime, demolition on the existing Terminal 1 is happening at night to minimize the effects on those passing through the airport. But at any time of day or night, expect heavy traffic with road closures, detours, and the temporary relocation of the Terminal 1 Ground Transportation Center. That's where travelers normally find courtesy shuttles, taxis, and rideshares. Finally, because parking spots at this small airport are limited, the airport recommends reservations.
Salt Lake Airport SLC Construction

Brandon Jenner // Shutterstock
Travelers to and from Salt Lake City are already experiencing an entirely new airport. It's The New SLC, which opened in September 2020.
One of its biggest improvements? Clearing the tarmac of airplane traffic jams.
But this LEED Gold-certified terminal complex won't wrap up construction until next year. For example, the eastern part of Delta's new Concourse A is only half-opened. There are more than 17 more gates on the horizon. Plus, Concourse B will be expanding by nine gates and more concessions by next fall.
Although there's still technically just one building at SLC, it's a doozy. The distance from Terminal A to Terminal D is over a half-mile long. That could take an estimated 15 minutes to walk — what a great way to get in your daily steps, am I right?
And that's on top of the walk from the parking garage to the terminal. Fortunately, there are moving walkways.
Unfortunately, this construction and these renovations do not include installing more moving walkways. So make sure you wear comfortable shoes when flying in and out of Salt Lake City International Airport. And be sure to leave plenty of time for the trek to the gate.
Portland International Airport (PDX)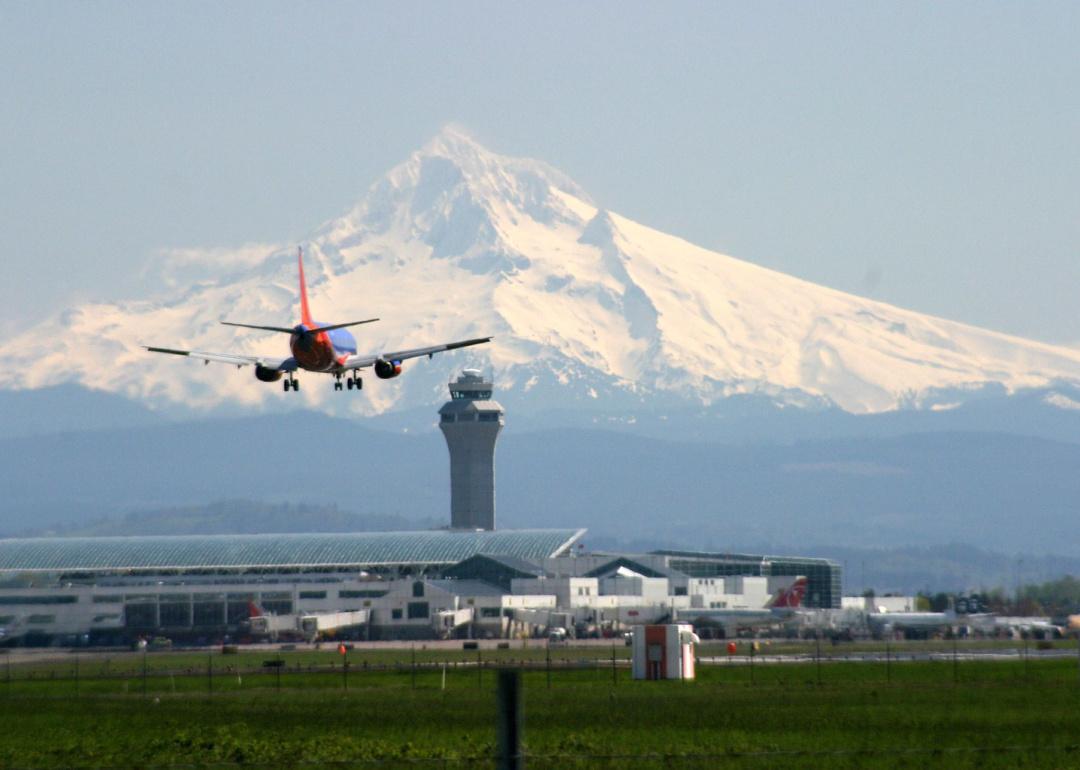 David Gaylor // Shutterstock
There's so much construction going on at Portland International Airport that the PDX website includes a page just for construction updates.
Well, it's a big project, at $2 billion in renovations. Called PDX Next, it includes a new main terminal opening in mid-2024, which the Port of Portland is touting as "less like an airport" and "more like a neighborhood."
For example, it will have local dining and shopping options, including made-in-Oregon goods. Also, you'll be able to enjoy a woodsy design aesthetic, under a Douglas fir timber roof, in a pre-security area called The Garden.
It's supposed to bring the Pacific Northwest experience to Portlanders and out-of-towners alike. Visitors will even be able to take a hike inside the terminal, although it'll be up a flight of stadium stairs instead of up the side of Mount Hood.
All the quirky new features coming to PDX including a throwback as well. That is, they're re-installing one of PDX's most beloved icons. It's a 1980s teal carpet, with a runway-inspired geometric pattern on it. It had been controversially torn out in 2015.
Finally, until the new terminal opens, travelers won't have access to pre-security shopping options. Plus, they'll have to walk long distances along a detoured route between security and Concourses C and D (at least until 2025).
Also, it's not as easy to move freely between the concourses once through security. That's because passengers must pass through a TSA checkpoint based on their gate. Sounds a lot like my experience for years at Newark-Liberty International Airport. Finally, here's the good news: a new Concourse Connector is coming in 2024.
This story originally appeared on TravelPerk; Stacker Studio produced and distributed it. Sandi Hemmerlein, Senior Data Reporter at Stacker, contributed.