Defunct Stores That No Longer Exist
THIS POST MAY CONTAIN AFFILIATE LINKS, WHICH MEANS I MAY BE COMPENSATED IF YOU CLICK A LINK. THERE IS ABSOLUTELY NO COST TO YOU. ALSO, AS AN AMAZON ASSOCIATE I EARN FROM QUALIFYING PURCHASES.
As someone who came of age in the 1980s, it is both fun and sad to reminisce about the defunct stores that no longer exist. I'm talking about the retailers where my friends and I would visit while hanging out at the mall sometime in the 80s decade.
Also, this could be the old department stores that anchored the mall where my parents would take me each year for back to school clothes in the 1970s (when I was in elementary school) or the 1980s (when I was in high school).
One of those mall anchor stores that no longer exist was Abraham and Strauss, aka A&S. I can still picture was it looked, sounded and smelled like.
Anyway, you know the defunct stores I'm talking about, right? The ones which TV commercial jingles that were the ultimate ear worm. Or the ones that stocked the must-have electronics or clothes of your generation. Sony Walkman or Jordache jeans, anyone?
What are defunct stores that no longer exist
I know that I write a lot about shopping. I've shared some of my favorite retailers in blog posts about shopping at Target or perusing the Nordstrom anniversary sale.
However, I thought it would be fun to take a trip down memory lane and revisit defunct department stores, electronics shops and other retail stores that are no longer in business.
These are stores that closed down in the past 10 years (some longer ago) as well as department stores that are no longer in business. Side note: it's amazing how many defunct department stores turned into Macy's locations!
Stacker reviewed a variety of sources to take a close look at various major retail chains that no longer exist. Many of these chains led the pack at one point in history.
Many of them even paved the way for their competitors, who eventually overtook them. Blockbuster, for example, was the largest video retailer worldwide and was valued at $3 billion at its height. Now there's only one Blockbuster store left on the planet. It is in Bend, Oregon.
Other chains couldn't keep up with the rise of e-commerce sites like Amazon. Sharper Image, for example, was once the only place where tech lovers could flock to play with high-end and niche gadgets. But then Amazon started selling similar products online.
From Tower Records to Thom McAn shoes, here are dozens of defunct retailers that were once packed with shoppers. Now they simply do not exist.
Looks like I'm going to have to add Bed, Bath and Beyond and Buy Buy Baby to this list.
Old deparment stores that went out of business
Sadly, the department store concept is becoming old fashioned and outdated. Many of the retailers in this article (and some that I didn't get around to including) are department stores that went out of business.
This includes:
Abraham and Straus (A&S)
Bon-Ton Stores
Gimbels
Hudson's
Jacobson's
Lord & Taylor
Marshall Field's
Mervyn's
Mid-Island Department Store
Stores that went out of business in the 2000s
The 2000s were not kind to many different kinds of retail stores. Between 2000 and the current day, dozens of stores have closed their doors.
Here are the brands and businesses that shut down or went extinct in the 2000s:
Ames
Anchor Blue
Bed, Bath and Beyond
Borders
Buy Buy Baby
Circuit City
List of defunct stores
Now onto a complete list of stores that are defunct.
Ames
Before there was Walmart—four years before, to be exact—there was Ames. The discount retailer used to sell a massive range of merchandise, including apparel, electronics, housewares, patio furniture, jewelry, and beyond. In 2002 it shut its doors for good–one of many electronics stores that went out of business in the 2000s.
Anchor Blue
Anchor Blue, a teen clothing chain launched in 1972, filed for bankruptcy in 2011 after 39 years of business. At its height, the chain had more than 300 stores in the United States.
But it could not survive the 2009 economic downturn. By the time it closed, there were 117 stores, most of which were in California.
It is one of those 1970s stores that no longer exist. Truthfully, I'd never even heard about it until I worked on this article.
Blockbuster
How many weekend nights did you head to your local Blockbuster to find a video to rent? Yeah, me, too.
Founded in 1985, Blockbuster was once the entertainment giant of the world. At one time it had more than 65 million registered customers and more than 9,000 stores in the United States alone.
However, along came streaming services like Netflix and Amazon Prime Video. And just like video killed the radio star, streaming movie services killed Blockbuster. In 2014 the chain filed for bankruptcy and began closing retail locations.
Borders
I feel so lucky to have lived in Ann Arbor, Michigan during Borders bookstore's heyday. In fact, the flagship Borders location was on State Street in Ann Arbor, just a block off the University of Michigan diag.
A few years later, it moved around the corner to Liberty Street into a much bigger space. I can remember taking my daughters to children's story time at that newer Borders space.
Unfortunately, after starting in 1978, by 2011 Borders shut down all 400 locations nationwide. One of its downfalls into extinction? Failing to develop an online store at a time when Barnes & Nobles had moved online and, of course, Amazon had become a giant at selling books and music.
Sadly, Borders is just one of many stores from the '70s that no longer exist.
Builders Square
You may not even realize that there was another large-scale home improvement store competing with Home Depot and Lowe's. And that store was called Builders Square.
It was one of the original big-box stores for builders and DIYers. Founded in 1970 it eventually shut its doors in 1999. Yet another store from the '70s that no longer exists.
Century 21
When I was a student at NYU, everyone talked about heading downtown to shop at Century 21. You see, in the days before TJ Maxx and Nordstrom Rack, Century 21 was the discount department store. This was also when everyone shopped at Loehmann's, which is also now an extinct department store.
Since 1961 you could find nearly all Century 21 stores in the New York City area. However, the flagship store was across the street from the World Trade Center. So, the store was definitely hard hit in 2001.
Almost 20 years later, the pandemic hit so foot traffic died. And the store wasn't really set up for e-commerce sales. So, the beloved chain filed for Chapter 11 bankruptcy, devastating budget-loving fashionistas everywhere.
Not all hope is lost, however. In 2023 the company is rebranding and reopening its lower-Manhattan flagship store. Now it will be known as Century 21 NYC.
Circuit City
Before Best Buy was the biggest place to buy electronics, there was Circuit City. Founded in 1949, it helped to pioneer the big-box concept. Never before had America seen a one-stop shop for everything from televisions to stereos to refrigerators (although one might argue that Sears was doing this as a department store).
Unfortunately, Circuit City grew too big and then couldn't survive the 2008 financial crisis. So, in 2009, Circuit City went completely out of business.
CompUSA
In 1984 personal computers were just becoming a thing. So it's no surprise that a retailer called CompUSA began opening stores across the country. Unfortunately, it was a bit too niche and closed for good in 2012.
Crazy Eddie
I'm from New York, actually a suburb of New York City. So, if like me, you grew up in the 1970s and 1980s there, you know all about Crazy Eddie and their commercials. They're insane!
Crazy Eddie got its start in 1971 as an electronics storefront in Brooklyn. Then, it grew to become the largest commercial electronics store in the New York metropolitan area. All together, there were 43 Crazy Eddie stores on the East Coast.
Unfortunately, the founder and namesake of Crazy Eddie–Eddie Antar–got himself in some financial hot water, and the entire brand went under in 2012. So, now Crazy Eddie is just another defunct electronics store from the 70s and 80s.
Delia's
Millennial and older Gen Z women likely still remember shopping at Delia's as a teen. My own daughters, one a millennial, the other a Gen Z, surely do. It was the teen fashion chain at the mall for getting tongue-in-cheek graphic tee shirts, hip jeans and more.
However, as fast fashion brands like H&M and Forever 21 became more popular, Delia's couldn't keep up. After opening in 1993, the last Delia's closed in 2014–just as the brand was turning 21. That's too bad.
Dominick's
In 1918 Dominick DiMatteo founded Dominick's, a grocery store chain that would become a beloved icon of the Chicago area. Eighty years later, in 1998, Safeway bought the brand.
Unfortunately, it wasn't enough to keep the 116 stores open. In 2013 Dominick's went out of business, one of America's grocery stores that no longer exist.
Speaking of grocery stores that no longer exist, two supermarkets from my childhood are on this list. They are Waldbaums and Finast.
Dressbarn
I can remember shopping at Dressbarn. It was the perfect store to find work dresses at affordable prices.
Unfortunately, the brand couldn't weather a changing retail and business casual work climate. So, in 2019, Ascena Retail Group, which also owns Ann Taylor and Loft, closed all 650 Dressbarn stores.
FYI, you can find lots of Ann Taylor and Ann Taylor loft locations at outlet malls.
Eckerd's
Just looking at the Eckerd's sign above, can you guess which retail brand took it over and rebranded all 2,000 locations in 20 states? I knew it had to be Rite-Aid, and I was right.
In 2007, Rite-Aid Corporation acquired Eckerd's, founded in 1898. Then, it converted the stores to Rite-Aid locations.
Family Video
The now-defunct Family Video set up shop in more rural towns and mid-sized cities, initially to avoid competition with Blockbuster, when it launched in 1978. However, when Family Video finally went out of business in 2022, it was the last remaining brick-and-mortar media retail chain in the country.
Frank's Nursery & Crafts
Frank's Nursery & Crafts, one of the country's largest lawn and garden retailers, was founded in 1957 in Detroit. The store stocked its shelves with live plants, fertilizers and garden tools.
Growing up on Long Island, Frank's was where my mother, a master gardener, bought all of her plants and gardening supplies. I can still remember the smell of the fertilizer aisle at Frank's.
Unfortunately, a weakening economy took its toll on the chain. So, in 2004 the company closed all of its 169 stores in 14 states.
Interestingly, the Frank's Nursery and Crafts website is still up and running. However, I can't tell if it's legit or just a copycat from a store that no longer exists in a traditional retail setting.
Hudson's
The J.L. Hudson Company, aka Hudson's, was a Detroit legend. Founded in 1881, the iconic Detroit department store was an anchor for the then-thriving city.
At the time, it was the second-biggest department store in America. Only Macy's in New York was bigger.
Then, in 2001 Hudson's merged with other department store brands, putting an end to the Hudson's department store name.
KB Toys
It's sad how many defunct toy stores there are. And not all of them appear in this article. For example, do you remember the brief life of online toy store eToys?
Anyway, from 1922 to 2009, KB Toys was America's reigning toy store. KB Toys, now defunct, had more than 1,300 stores across the country at one time.
Eventually, however, the company could not keep up with competitor Toys "R" Us, which acquired KB Toys' website, trademarks, and intellectual property rights. Ironically, Toys R Us soon went out of business, too.
So many old toy stores that went out of business. It's so sad.
Kids 'R' Us
Oh, how I miss Geoffrey Dollars. Back when my daughters were babies, we had a Toys R Us credit card. It helped us to earn rewards, which took the form of Geoffrey Dollars. You know, Geoffrey, "I don't want to grow up, I'm a Toys R Us kid" the store mascot.
Anyway, we could use those Geoffrey Dollars at Babies R Us and Kids R Us to buy diapers, wipes, toys and children's clothing. Kids R Us debuted in 1983 and bowed out of business in 2004.
FYI, this past holiday season, you could buy Toys R Us toys at Macy's.
Linens 'n Things
Starting in 1975, Linens 'n Things was a popular niche retailer that sold household items. At its height, it had 589 stores all over the country.
To be honest, it was hard to tell Linens 'n Things apart from its biggest competitor–Bed, Bath and Beyond. In fact, I always thought that Bed, Bath and Beyond bought up Linens 'n Things before the store became defunct in 2008. But now I'm not sure that's true.
Marshall Field's
Marshall Field's was a well-known department store that is now defunct. I can remember visiting its flagship store on State Street in Chicago many years ago.
This was back when I lived in Michigan in the 90s. At that time department stores like Marshall Field's, Hudson's and Jacobsen's bookended my local mall. Now those department stores no longer exist.
Marshall Field's had been around since 1852. Then, Federated Department Stores bought the Marshall Field's brands.
And since Federated is best know for Macy's department stores, that's what many Marshall Field's locations became, including that iconic store on Chicago's State Street. Now it's known as Macy's State Street. By the way, the last Marshall Field's store closed in 2006.
Diminished sports apparel sales and millions of dollars of debt are what finally brought Modell's Sporting Goods to its knees after a 131-year brick-and-mortar run. Modell's got its start in 1889.
The Manhattan-founded retail chain had 141 stores and some 3,600 employees when it closed its doors in 2020. But folks who can't imagine buying jerseys and cleats without "going to Mo's" can still use the Modell's website to get everything they need.
More about how Modell's and other permanently closed stores got a second chance in retail.
Payless ShoeSource
I was so sad when Payless ShoeSource announced, in 2019, that it was closing all of its stores in the United States. There were about 2,100 of them.
Why was I sad? Because Payless was one of the best places to buy affordable wide width shoes for women and wide width shoes for men. Also, Payless had been around since 1956.
In fact, when we found out that Payless was going out of business, my husband, daughters and I visited the Payless store near us in Western Pennsylvania. Then, if we found a pair of shoes that fit, we bought every single pair in our size and width. I'm not kidding.
Anyway, with no more Payless ShoeSource stores around anymore, here's a hack you might like to try: you can still find Payless shoes for sale on eBay.
Pier 1 Imports
First opened in San Mateo, California, to sell bean bag chairs, incense, and love beads to hippies, Pier 1 Imports was known for stocking some of the most unique home goods on the market.
In 2020, the company filed for Chapter 11 bankruptcy, citing the COVID-19 pandemic and its inability to find a buyer as reasons for its failure. The website is still functional, though, for folks in the market for a good throw pillow or off-the-wall china pattern.
This is my most favorite Pier 1 purchase ever–a dress form for displaying outfits.
Sam Goody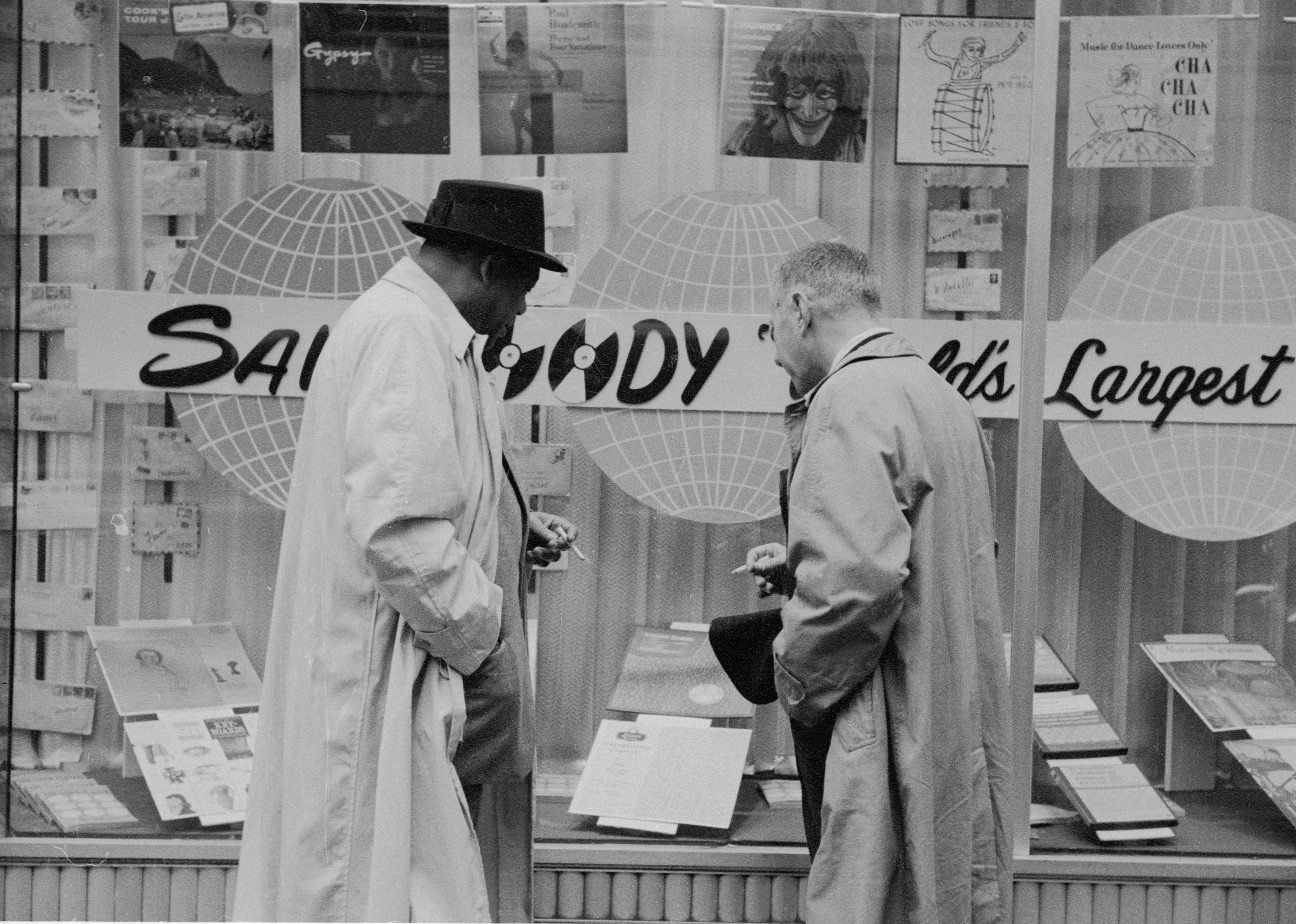 I'm a big Billy Joel fan. As a Long Island girl, I guess that's no surprise.
So imagine my excitement in the 1970s, when visiting a Sam Goody store in Midtown Manhattan. The store was on 52nd Street and 6th Avenue (aka Avenue of the Americas), and I realized it was the corner where the cover of that very same Billy Joel album was shot.
Anyway, like most teens in the 1970s and 1980s, I bought all of my records at Sam Goody. Then I moved onto Tower Records, but more about that record shop's demise in a bit.
Over time, the owners of the Sam Goody brand sold it off. Then, all locations were rebranded as FYE entertainment retail stores.
Sharper Image
What happened to the Sharper Image? In a word: Apple. But it's also Amazon and Best Buy's fault.
You see, once these retailers started stocking the same high-end, cutting-edge products that previously could only be found in stores like Sharper Image, well, Sharper Image's days were numbered. By 2008 it was defunct.
Sports Authority
Sports Authority was once one of the largest sports retailers in the country. Its claim to fame? Deep discounts.
In 2006, the peak year for the retailer, a hedge fund purchased the company. However, mounting debt forced the company to call it quits in 2016.
Nowadays, if you want great deals on sporting goods, your best bet is to shop at Dicks Sporting Goods or its "outlet" locations called Going, Going, Gone stores.
The Limited
As a twentysomething just starting in the corporate world, The Limited was my favorite place to shop for work clothing in the 1980s. At one point there were more than 750 Limited stores in the United States.
It's hard to believe that The Limited started in 1957. And even harder to come to terms with the fact that in 2017, The Limited went out of business.
Thom McAn
Thom McAn was where my parents shopped for shoes when I was a child. It was also where they bought me my shoes, especially for going back to school.
Thom McAn started in 1922 and, for years, was known as "America's shoe store." It's where parents (like mine) on a budget shopped for reasonably priced footwear.
However, with the rise of shopping malls and trendier stores, Thom McAn's numbers dwindled. By 1996 Thom McAn was defunct.
Tower Records
I'd never heard of Tower Records until my freshman year at NYU. Then, on the corner of 4th Street and Broadway, I discovered Tower Records. For many American youth, like me, Tower Records, founded in 1960, was the place to get music you couldn't find anywhere else.
Also, Tower Records hosted in-store events with musical artists. I can still remember waiting in line to get an autograph from Chris Difford and Glenn Tilbrook, founding members of the 80s new wave band Squeeze. They were at Tower in 1984, promoting their eponymous album.
Fun fact: Island Records label had offices in the Tower Records building in Greenwich Village. I worked there (Island Records, not Tower Records) my sophomore year in college.
Anyway, despite my waxing poetic about Tower Records, the chain couldn't keep up with the rise of online music and discount chains like Best Buy. So, in 2006, all the Tower Records stores closed their doors. And sadly this was one of the stores from the 1960s that couldn't survive.
Waldenbooks
To me, Waldenbooks was the bookstore you could find in the mall. So, while fashion-focused teens (like my daughters) might be shopping at now-defunct Delias, bookworms like me headed to Waldenbooks.
I was surprised to learn that Waldenbooks opened in 1933 as a lending library to boost morale following the Great Depression. Founders Lawrence W. Holt and Melvin T. Kafka would lend books out for three cents a day.
In the 1950s, when paperbacks came out, it was cheaper to sell books. So, the pair converted their rental libraries into retail outlets.
Eventually Borders purchased the Waldenbooks chains and, well, we know how things went for Borders. Now, there are neither Borders bookstores nor Waldenbooks anymore. The last Waldenbooks closed in 2011.
Warner Bros. Studio Store
In our suburban Philadelphia mall, the Warner Bros. Studio Store was across from The Disney Store. That's like putting a Microsoft Store across from an Apple Store. Which do you think would attract more shoppers?
Well, in 1991, the popular film studio, opened a series of retail stores selling all manner of merchandise relating to its movies, including Looney Tunes and DC Comics items. By 1997, there were more than 100 locations, including a three-story building at 1 Times Square.
Unfortunately, the Warner Bros. Studio Store concept wasn't sustainable, and the last store closed in 2001.
Woolworth's
In my mind, Woolworth's is the original five-and-dime stores. In my town growing up, Woolworth's was where you went to buy everything. This included everything from supplies for sewing projects to soda.
Woolworth's started in 1879, selling factory-made goods at remarkably low rates. Woolworth's was the first brand to expand internationally, with more than 5,000 stores around the world. In the mid-1920s, a Woolworth's store opened, on average, every 17 days.
However, with the rise of other discount retailers, Woolworth's couldn't survive. The last Woolworth's location closed in 1997.
So, are there any Woolworth stores still open? Sadly, no.
However, the Woolworth Building in Lower Manhattan lives on in the shadow of the Freedom Tower. It is a New York City landmark.
Zany Brainy
It's hard to believe that Zany Brainy was one of the industry leaders in educational toys for just 10 years. It was around from 1991 to 2001 only.
Zany Brainy was my daughters' favorite store to visit when they were little. We'd usually visit after their Saturday morning class at The Little Gym.
At its peak, there were 184 Zany Brainy stores in 34 states. Sadly, Zany Brainy is no more.
It was one of the few stores that was founded in the 1990s. Unfortunately, it barely made it into the 2000s before going out of business for good.
Stores that were reborn online only
Even though this article is a sad trip down retail memory lane, there is some good news in all of this. For instance, Century 21 department stores finally re-opened near the former World Trade Center site in New York City.
Also, some of these defunct stores found new life online only. That's great to hear.
Here are some of those retailers that were reborn online only:
Linens N Things
Radio Shack
SteinMart
So, if you liked shopping at these brands, now you know that you can go online to shop there again.
Portions of this story originally appeared on Stacker.com and is being been re-published pursuant to a CC BY-NC 4.0 License.